What to Do After a Bike Accident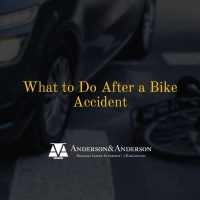 Your bike may be a key way you travel around Tampa and your neighborhood. But bicycles aren't as visible as cars, and when a driver is careless, that can turn into a serious injury. Because of this, you may need guidance on your next steps after a bike accident.
If you're not sure where to turn after a bike accident, take the following steps. Your personal injury lawyer can guide you through this process and help you get compensated when you're hurt.
Get Medical Attention
When you were hit on your bike, you may have suffered serious injuries in the accident. Even with a helmet on, you may have suffered brain trauma, spinal cord injuries, and even internal organ damage. That can be life-threatening if you don't seek medical attention right away.
Even if you feel fine, you may need to seek medical care. Your injuries may not be obvious right away, but by the time you feel your injuries, the damage may have worsened. If left untreated, these injuries can even become deadly.
Identify the At-Fault Party
Once you've gotten treatment for your bicycle injuries, you then need to determine who's at fault for your injuries. Identifying the at-fault party can help you hold them accountable and help you recover the financial losses you suffered because of the accident. They may also compensate you for the intangible suffering, or non-economic damages, you may have suffered because of your injuries.
The at-fault party may be the driver who hit you, but that's not always the case. For example, the driver may have been acting in the scope of their job. In these cases, their employer may be responsible. Reach out for the answers your lawyer can provide.
Discuss Your Insurance Settlement
When you're hurt in a bicycle accident, you may be expected to work with an insurance company to get the compensation you're due. Because of this, you need to know what your claim is worth. The problem is, the insurance company may not be so willing to compensate you for your injuries. You may have already received a lowball settlement offer.
That's because insurance companies are for-profit businesses. Their top priority isn't your recovery—it's the profits they're making. Because of this, you may have trouble getting a fair offer from the company.
That's where a lawyer can step in. Your lawyer can help you gather evidence of your damages and the funds you're owed, and they can help you take the insurer to court if they fail to compensate you fairly.
Call a Bicycle Accident Lawyer
When you're hurt in a bike accident, taking the right next steps is key. Your future is on the line, and you may need compensation to recover from your accident. A mistake could cost you part or all of that compensation.
Luckily, the lawyers at Anderson & Anderson are here to help. If you've been injured in a Tampa bicycle accident, reach out for a free consultation, and we'll discuss your opportunities for compensation. When you're ready to take your next steps with a lawyer, call 813-251-0072 or fill out the online contact form below to get your consultation.