How Defective Drugs Cause Birth Defects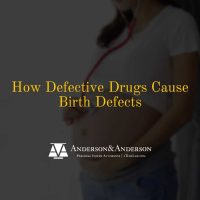 When you're expecting a child, it should be a time to celebrate and enjoy this exciting moment. Unfortunately, many expecting parents may have worries about their child because of a defective drug they may have been taking during the pregnancy. That can leave lasting effects for you and your baby.
But how do defective drugs cause these birth effects? And what can you do if you and your family have suffered because of a defective drug? Reach out to a dedicated defective drug lawyer for answers when you're hurt and suffering.
Dangerous Substances During Pregnancy
When you're given medication during your pregnancy, it's not just your health that's impacted by the medication. Your child may also experience effects caused by these drugs. Often, this means your doctor may take you off certain medications during pregnancy.
But doctors may still recommend some drugs during your pregnancy. Some of those drugs can be dangerous for the baby, especially if they're defective. That can lead to devastating illness, deformities, or even death for your child.
Who's at Fault?
When someone is manufacturing a drug, it's their responsibility to make sure the drug is given to the customer without defects or dangers. If someone fails to note a defect in your medication, they may be responsible for the damages those defects caused.
Because of this, you may need to speak with your defective drug lawyer about suing the manufacturer of the dangerous drug. They put your life and your child's life in danger, and you may have grounds for compensation.
What a Defective Drug Lawyer Can Do For You
When you're hurt by a defective drug, it can be difficult to get compensated. No one directly injured you, such as through a car accident, so it's difficult to determine who's at fault and then hold them accountable.
Your defective drug attorney has the tools you need to determine who's at fault for your injuries. They can use those tools to help you take your claim to court. They can even represent you in the courtroom, so you can focus on your health and your child, not just the court proceedings. Your lawyer makes it easy to get the compensation you're due.
Call a Drug Defect Lawyer for Guidance
If your child suffered a birth defect because of a dangerous drug, you may have grounds for a lawsuit. Your lawyer can help you gather evidence against the manufacturer and build a strong case to support your claim.
At Anderson & Anderson, we know how tough it can be when your child is injured or sick because someone was careless. We have the tools and experience you need when you're unsure where to turn. Get help when you call 813-251-0072 or when you fill out the following online contact form.