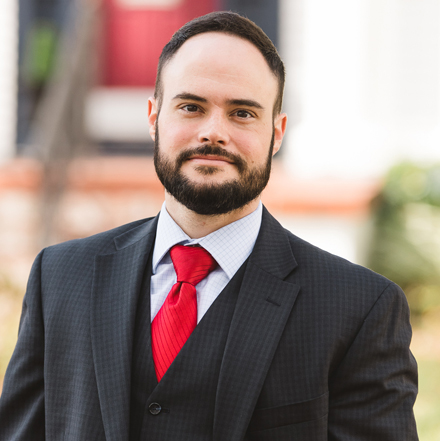 Robert Pollick
Attorney
Robert Pollick was raised in Palm Harbor, Florida and graduated from East Lake High School.
Robert continued his education at the University of Florida and graduated in 2010 with a Bachelor of Arts in History. While at the University of Florida, Robert was actively involved in Big Brothers Big Sisters where he was president of Students for Big Brothers Big Sisters and served on the Executive Board for Big Brothers Big Sisters Mid-Florida as the Student Liaison. Robert also was an active member of Theta Chi Fraternity.
Upon graduation, Robert attended University of Florida's Levin College of Law where he graduated with his Juris Doctor in 2013. During his time at the University of Florida's Levin College of Law, Robert became a Certified Legal Intern for the Office of the Public Defender in Gainesville, Florida where he participated in several jury trials that occurred during his final semester of law school.
After taking the Florida Bar exam, Robert immediately started his law career as an Assistant Public Defender for the 8th Judicial Circuit in Alachua County. During his 6 years at the Public Defender's Office, Robert defended thousands of criminal cases gaining immense litigation experience as well as valuable negotiating skills. Robert was lead counsel to 23 jury trials during his career at the Office of the Public Defender.
In 2019, Robert proudly joined the firm of Anderson & Anderson bringing his trial experience to the personal injury world.
Robert is a member of the Florida Justice Association, the Tampa Bay Trial Lawyers Association and the Hillsborough County Bar Association.

Robert Pollick was named to the Super Lawyers Rising Star list in 2022. The Rising Stars list recognizes no more than 2.5 percent of attorneys in each state using a multiphase selection process, including nominations, independent research, and peer evaluations
During his downtime, Robert enjoys spending time with his family and friends, running, cycling, snowboarding and cooking.
Areas of Practice