When to Get an Attorney for a Car Accident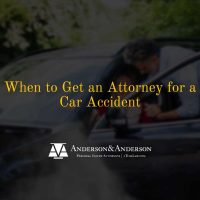 Are you wondering whether it's time to get a car accident lawyer? If that's the case, the answer is "yes." Car accidents can be expensive, time-consuming, and destructive. However, determining whether you need the assistance of a car accident attorney to resolve your case can be difficult, especially at the outset.
It can be difficult to know what to do following a Tampa car accident. Many accident victims find themselves in unfamiliar territory after an accident. Fortunately, an experienced car accident attorney can help you navigate these waters and protect your right to compensation throughout the process. So, when do you need to hire an attorney?
Having a Lawyer Can Increase Your Compensation
If you are injured or your property is damaged in a car accident, you may be faced with significant medical bills, lost wages, and other costs. In many cases, these costs will be incurred long after the event has occurred. It is common knowledge that victims of traffic accidents who hire an attorney receive significantly more compensation than those who do not.
The extent of the damage may not be obvious in the days and weeks following a car accident. An experienced attorney can provide a victim with a more accurate estimate of future costs to include in their claim. Even seemingly minor injuries can have long-term ramifications.
A Car Accident Attorney Advocates for Your Best Result
Because most car accident injury claims are settled out of court, some people believe that resolving an insurance claim is simply a negotiation process. This is an error that could lead to the denial of your insurance claim. If your vehicle accident case has a solid legal foundation, your negotiating position is weakened.
In addition to proving fault in a traffic accident and the extent of damage and injuries, there are other legal concerns that can affect your case and compensation. A claim may be lost if it is not filed within the statute of limitations for that type of claim and state.
A Lawyer Does the Legwork In Your Car Accident Claim
When you file an auto accident claim, you are dealing with a large insurance company that handles these types of cases on a daily basis, rather than the driver. Even if they were the cause of the accident, some people who have been in collisions are concerned about the inconvenience and harm they have caused to other drivers.
An experienced car accident attorney can help you negotiate with the insurance company. They are well-versed in the strategies used by insurance companies to reduce compensation for accident victims. They can also assist you with the mountains of paperwork, phone calls, and emails that follow an accident.
Get a Car Accident Lawyer on Your Side
Following a car accident, you will face a slew of unanticipated complications, as well as physical and mental trauma. You may need some time to recover, make the necessary phone calls, and complete the paperwork. Unfortunately, when a car accident occurs, the at-fault insurance company is quick to try to minimize its liability.
If you want to learn more about when to get an attorney for a car accident, talk to Anderson & Anderson as soon as possible. A qualified lawyer will help you determine the best course of action. Call 813-251-0072 for more information.