Common Causes of Florida Car Accidents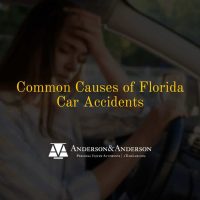 Have you been injured in a car accident in Florida? Sadly, they're not uncommon. Reach out to a Tampa car accident lawyer for help during this difficult time, and read on to learn more about common causes of car crashes in the Sunshine State.
Semi Trucks
In Florida, 18-wheelers are a leading cause of car accidents. If you've ever been involved in a car accident with an 18-wheeler or large truck, you know the devastation they cause.
How much does an 18-wheeler weigh compared to a car? The average tractor-trailer truck weighs 80,000 pounds, while the typical car only weighs 4,000 pounds. Especially when hit from the side or from behind by a big rig, the chances of surviving a high-impact crash drop dramatically.
When you're driving in Florida, never attempt to pass a big rig while it's turning, and stay several car lengths behind to protect yourself from one of the most common causes of Florida car accidents, big rigs.
Risky Driving Behaviors
Florida is among the top three states for fatal car wrecks. Apparently, Florida drivers are risk-takers. Risky driving has many forms.
It can be simply getting distracted and losing focus on the road, or you can get behind the wheel when you are tired, in a hurry, feeling pressured or angry, or impaired by drugs or alcohol. Texting or even just looking at your phone while driving is extremely dangerous.
It takes only a few seconds to get distracted, and then it takes more than five seconds for your eyes to refocus back on the road.
Drunk driving is also a serious problem in the Sunshine State. Whether you're visiting on vacation or are a permanent resident, any accident attorney will tell you that if you are caught, you will lose your license, pay large fines, and go to jail if your blood alcohol content is too high.
Some lesser-known driving risks also exist. The streets in some southern states are chock full of racing enthusiasts, and some are putting innocent lives at risk by drag racing on local roads.
Street racing can be scary for other motorists, and the cops are cracking down on speeders and reckless drivers. Florida auto accident lawyers are kept busy with drivers who were injured in a wreck with a street racer.
Insects
First-time visitors are also surprised to find that an insect causes havoc on Florida roads. Their name sounds cute, but lovebugs are the bane of many drivers.
The worst time for them in Florida is from mid-April to early June. Because these lovebugs are attracted to carbon dioxide, when you enter a congested area, you'll be met with a swarm of them zooming your car or buzzing your windows, which can greatly reduce driver visibility and cause accidents.
Ask an Accident Attorney About Your Legal Options
There are many common causes of car accidents in Florida. Some are completely unexpected and can cause a lot of vehicle damage.
Whether you've been hit by a large truck or collided with another vehicle while driving through a swarm of lovebugs, the Tampa personal injury lawyers at Anderson & Anderson are here to help. Some accidents are no one's fault, but when someone else is to blame, don't get stuck footing the bill. That's when you need a lawyer for a car accident.
Call 813-251-0072 to reach out to our law firm, or fill out the online contact form.