Steps to Filing a Tampa Personal Injury Lawsuit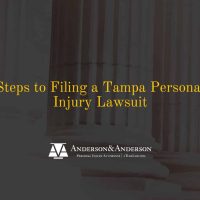 Injured in Tampa? You may have grounds for a Tampa personal injury lawsuit to help you recover from your losses. Unfortunately, it's not always easy to take the right steps to compensation. Meanwhile your time, energy and focus is on getting better, as it should be. Without the right information and sometimes assistance, it's easy to make a misstep that may negatively impact your claim.
Luckily, we know the right steps and have the tools and time to file a Tampa personal injury lawsuit. If you're struggling during any point of the process while seeking due compensation, reach out for help. Anderson & Anderson will work diligently in bringing justice to your claim.
Get Medical Attention
Immediately after any accident receiving a medical evaluation of your health is critical. If you're hurt, you may be eligible for compensation and having that documented assessment can be essential to any personal injury claim. Getting help now can help you prove you were injured in the accident. Even serious injuries like broken bones and traumatic brain injuries may be tough to prove without medical documentation.
If you don't act on time, it may hurt your chances of being compensated correctly. They will claim you must not have been injured in the accident if you didn't seek medical attention directly following the accident.
Determine Who's at Fault for Your Personal Injury
When you're hurt in a serious accident, you also need to know who's at fault for your injuries. Rarely is a personal injury claim black and white. But because some claims can vary, you may need to talk with your personal injury lawyer about pinpointing the at-fault party.
For example, you may have suffered a serious injury by an unsecured construction site. In this case, the government entity or construction company may be liable. If you're not sure who may be responsible for your injuries, reach out for help. Your trusted lawyer will analyze the evidence and help you determine the liable party.
Calculate Your Claim's Value
Your injuries may be severe, and it's may be difficult or overwhelming assigning a value to all of your losses. For example, you may have a record of your injuries, but what about the intangible losses you've suffered?
 You've likely experienced emotional trauma because of your injury. Your lawyer can help you determine the value of your damages based on the impact on your life and severity of your injuries.
Reach out for Help with Your Personal Injury Claim
When you're hurt by someone else's negligence, you may need help getting compensated through a Tampa personal injury lawsuit. Escalating from a demand letter to a formal lawsuit is sometimes required to receive fair compensation. The at-fault party may claim they did nothing wrong, and you may not have the tools to dispute that.
Luckily, Anderson and Anderson has the knowledge, tools, and experience and will work diligently toward the success of your claim as well as fair compensation. Take advantage of our free consultations by calling 813-251-0072 or by completing the following online contact form.