How Insurance Companies Lowball Car Accident Settlements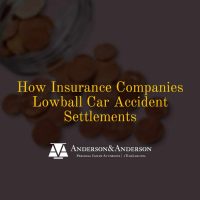 When you're hurt in a car accident, your Florida car accident insurance may sound like a saving grace. Unfortunately, you may find your insurance company isn't always on your side. It's unfortunate, but many insurance companies lowball car accident settlements to avoid paying for the high costs of a full recovery.
Knowing how insurance companies lowball settlement can help you avoid being the next victim of one of these companies. Check out the details below to know what to watch for and how to protect your settlement.
Claiming You Were at Fault
When you're hurt in a car accident in Florida, your no-fault insurance coverage can help you. This coverage should be provided no matter who was at fault for the accident. Unfortunately, the insurance company may not be so willing to work with you.
For example, the insurance company may claim you were careless when the accident happened, causing the injuries you've suffered. They may claim you were texting while driving or breaking the law. If they try to claim you shouldn't receive compensation for your injuries, you may need a car accident lawyer to step in on your behalf.
Delayed Responses Can Hurt You
In some cases, the insurance company may try to delay their responses. That means you may be left waiting for weeks or months to hear from your insurance company. That puts stress on you, making you more desperate and more likely to accept an unfair settlement offer.
Getting your car accident lawyer in Tampa involved can help you avoid these situations. Your lawyer can push for the responses you need, and if the insurance company still refuses to respond, your lawyer can help you take your claim to court.
What Does Your Recovery Cost?
In some cases, the insurance company may claim it simply can't offer you a larger settlement because your injuries don't warrant it. In these cases, it's vital to know what your claim is worth so you know if you're getting a fair settlement.
For example, you may have suffered a brain injury because of your Tampa car accident. The insurance company offers you a settlement that covers your initial hospital bills. But what about the costs of your household services, future medical care, and other expenses? If they fail to cover these expenses, they may be lowballing your settlement.
Find Out How a Car Accident Lawyer in Tampa Can Help
What can you do when an insurance company lowballs your car accident settlement? When you're hurt in a serious Tampa car accident, you may want to let your car accident lawyer handle your claim and be done with it.
Your best option may be to seek out help from the lawyers at Anderson & Anderson. They have the tools you need to calculate your losses and ensure you're getting a fair settlement after your car accident. They can even kick off your claim with a free consultation so you can speak with a lawyer before you file. Give us a call at 813-251-0072 or complete the online contact form below to get started.