Long-Term Impacts of a Brain Injury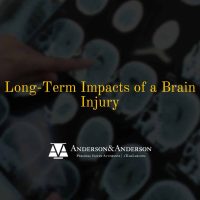 A bump on the head can become a serious problem fast. Even a mild concussion can have severe impacts on your health for years to come. Your head injury in a motor vehicle accident, physical attack, fall, or other incident can cause problems long after any other injuries have healed.
So what can you expect when you've suffered a brain injury? Below are some of the most common symptoms many brain injury victims experience. If you've suffered any of these losses from an accident you didn't cause, reach out to your Florida injury lawyer about your legal options.
Cognitive Function
Your brain is the control center of the body. It sends signals through the rest of the body, and it oversees the thoughts, impulses, and thinking skills we all use every day. When the brain is damaged, those signals can be disrupted.
Many people suffering from the long-term effects of a brain injury may notice trouble focusing or concentrating on a problem. Your brain may have trouble filtering information, which means light and noise can quickly become overwhelming. You may also struggle with memory loss, which can vary in severity, depending on your injuries. You may even experience some loss of motor skills.
Emotional Impacts
Unfortunately, the impacts you may face aren't just cognitive. You may also experience emotional impacts after brain trauma. For example, many people experience depression or anxiety following a serious head injury. That can also impact your ability to stay focused and return to your normal life.
In some cases, you may even see a change in personality. That personality change can lead to aggression, mood swings, and lashing out at others. Because your brain may be unable to regulate emotions like it once did, it can be difficult to keep your emotional state more even.
Effects on Overall Health
Your brain is a key part of your cognitive function, but what about your overall health? Brain injuries can cause problems with your overall health, too. You may have been injured in a serious Tampa accident, and now, you may face health problems for years after your brain injury.
For example, you may be more likely to suffer from seizures because of your head injury. Accidental drug poisoning and infections are also more likely to happen to those who suffered a brain injury. That means more time in the hospital to protect your health, and more times that you may need help tending to your daily needs.
Talk to Your Lawyer About Your Brain Injury Lawsuit
If someone caused your brain injury, you may have grounds for a lawsuit. But when you're already battling these severe losses, you may not have the tools or the energy to pursue a lawsuit on your own.
Luckily, a lawyer at Anderson & Anderson can help you seek compensation for your brain injury. Your lawyer can discuss the long-term effects of your brain injury through a free consultation and represent you in the courtroom. Ready to see how a lawyer can help you? Call 813-251-0072, or fill out the online contact form below.