How to Deal with Insurance Companies After a Motorcycle Accident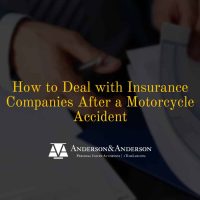 When you're hurt in a motorcycle accident, it can be difficult to recover from the suffering you experienced. Your injuries may be severe, and motorcycle accidents can accrue major expenses. Because of this, you may already have your insurance company in mind.
But your insurance company isn't always on your side. You may instead have trouble getting the insurance company to properly compensate you for your losses and suffering caused by the accident. If you're worried about making the wrong moves with insurance companies, reach out to a qualified motorcycle accident lawyer for help when you need it the most.
Talking with Insurance Companies
When you're hurt in a motorcycle accident, one of your first steps to recovering is reporting the accident. However, communication with insurance companies may be recorded and used against you at a later time during your pursuit of compensation.
Because of this, you need to be wise in your communications with insurers. You may need to notify them of the accident, but allowing a trusted attorney to handle as much communication possible will help protect you from accidentally accepting a portion of fault or jeopardizing your claim. When making an official statement or deposition be sure to review what to say to the insurance companies with your attorney before you call.
What If My Claim Is Denied?
You've taken every precaution and provided full honesty with the insurance companies about your claim. Now, though, you've received a low settlement offer, or you've been denied completely. So what can you do if your claim is low-balled or denied?
First, don't panic, and don't accept a low settlement offer. You may instead talk to your lawyer about the value of your economic and non-economic losses, making sure you understand the proper compensation you need to recover. Your lawyer can discuss this issue with the insurance company, so you can focus on your family, health, and recovery.
Take Action on Bad Faith Claims
But what if the insurance company still refuses to settle with you fairly? They may have already ignored demand letters and refused to discuss your claim. When this happens, the company may be acting in bad faith.
Insurance companies are expected to cover what's promised in your contracted policy. If they don't, this is grounds for a lawsuit. Talk to your lawyer about representing your interests for a bad faith insurance claim.
Take On Unfair Insurance Companies with a Motorcycle Accident Lawyer
When you're hurt in a serious motorcycle accident, you need compensation that covers the costs of your injuries, motorcycle repairs, and other costs. But an insurance company acting unfairly can make that difficult or even impossible.
Because of this, you may need help from the motorcycle accident lawyers at Anderson & Anderson. Our lawyers offer free consultations, so you know what we can do for your claim before you talk to the insurance company or ever step foot in a courtroom. To learn more about our services, call 813-251-0072 or complete the following online contact form.