The Dangers of Rollover Accidents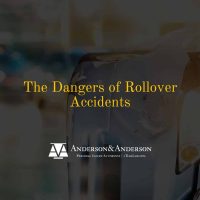 Any Florida car accident can turn ugly fast. Even a fender-bender can turn deadly under the right circumstances. But some car accident types are more dangerous than others. T-bone accidents, head-on collisions, and rollover accidents can be especially severe. But in particular are the dangers of rollover accidents?
If you're concerned about the severity of your accident, your car accident lawyer can help you understand why you may need more compensation to recover from these kinds of accidents. Reach out to a lawyer if you're suffering after an accident and need help understanding the details of your claim.
What Makes Rollover Accidents More Dangerous?
When you're involved in a rollover accident, the name implies what happened—your car rolled over, sometimes rolling more than once, during the car accident. But why is this more dangerous than other accidents?
When a car rolls, the weight of the car can crush the roof of the car. That means your head and neck, two vulnerable parts of the body, are in danger of severe damage. Brain trauma and spinal cord injuries leading to paralysis can affect your life in permanent ways. A severe blow to the head can even be deadly, as many rollover accidents are.
Because of this, you may be at risk for more severe injuries during a rollover accident. Your severe injuries can impact your quality of life for years after your car rolled during an accident. That can make your recovery more difficult, but your lawyer can step in for your claim.
Compensation for Tampa Rollover Accidents
After a Tampa rollover accident, you need funds that cover your losses, both financial and nonfinancial, after the accident. These losses, called damages, can be difficult to calculate because of the severe nature of these accidents.
For example, you may have suffered several dangerous injuries, leaving you in the hospital or recovering from surgery for weeks or months. That leaves you with months of medical bills and expenses related to the rollover accident, which can be difficult to track.
Your non-economic damages, like pain and suffering, can be even more complex. Your accident may have led to intangible losses that affect your quality of life. That means these damages don't have a price tag like your economic damages. Luckily, your lawyer has specialized tools to help you calculate these damages so you're ready for the courtroom.
Contact a Florida Lawyer After a Tampa Rollover Accident
When a car accident leads to a rollover, the impact can leave you struggling to maintain the quality of life you once had. You could face permanent, life-long damages because of your injuries, and worse, you may not have the tools you need for a full financial recovery.
That's where the lawyers at Anderson & Anderson can help you. We have the tools you need to recover compensation from the at-fault party. Reach out for guidance on your claim from your Tampa car accident lawyer. Ready to file a claim? Take advantage of our free consultations. Call 813-251-0072, or fill out the online contact form below.