June was Distracted Driving Month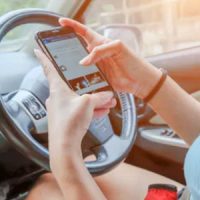 Distracted driving has become an increasingly serious problem across the U.S. In fact, it's such a troubling trend that the National Highway Transportation Safety Administration (NHTSA) has officially designated June as "Distracted Driving Awareness Month." Read on to learn more about the dangers of distracted driving.
The Scale of the Problem 
Most people know that distracted driving is dangerous, but many are unaware of the scope of the problem. According to the NHTSA, 3,522 lost their lives in distracted driving in 2021 alone and thousands more were injured. This accounts for almost ten percent of fatal car accidents and approximately nine deaths a day. In 2020, an estimated 324,652 people were injured in distracted driving-related car accidents.
Types of Distracted Driving 
Driving is both physically and mentally demanding. Unfortunately, driving has become so routine for many of us that we often forget about these demands and operate on autopilot. Driving in this way, however, significantly increases the risk of being involved in an accident. Distracted driving can take a few different forms, including:
Manual distractions, where a driver takes his or her hands off the wheel;
Visual distractions, where a driver takes his or her eyes off the road; and
Cognitive distractions, where a driver takes his or her mind off the act of driving itself.
Even engaging in one form of distracted driving is dangerous. For instance, taking one's eyes off the road for just five seconds, while traveling at 55 miles per hour is the equivalent of driving the length of a football field blindfolded. Some actions fall under multiple categories and those activities are especially perilous. Reaching for something in the backseat, for instance, is both a manual and visual distraction, as a driver's hands are both taken off the wheel and his or her eyes are taken off the road. Eating while driving, on the other hand, is both a manual and cognitive distraction. Some distractions, mainly those involving technology, qualify under all three categories. Texting, for instance, is considered one of the most dangerous activities to engage in while driving because it is a manual, visual, and cognitive distraction.
Liability for Distracted Driving Accidents 
Driving while distracted is a form of negligence, so when an accident victim can prove that his or her crash was the result of some sort of distraction, then he or she could be entitled to compensatory damages. To establish this, claimants will need access to a wide range of evidence, including everything from traffic and dashboard camera footage to eyewitness testimony and cell phone records. Successful claimants could recover compensation for their medical bills, lost wages, vehicle damage, and pain and suffering.
Were You Injured by a Distracted Driver? 
Drivers who caused accidents because they were distracted can and should be held liable for their carelessness. At Anderson & Anderson, our experienced Tampa car accident lawyers have been helping accident victims seek compensation for their losses for almost 40 years. Our legal team is standing by and eager to put that experience to use in your case. Call us at 813-251-0072 to set up a free consultation today.
Sources: 
nhtsa.gov/risky-driving/distracted-driving
forbes.com/advisor/legal/auto-accident/distracted-driving-statistics/