5 Tips for Taking Photos After a Car Accident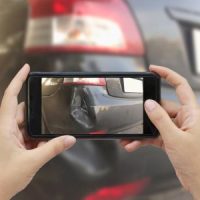 Photographs can play a valuable role as evidence in support of a car accident claim. These photos can, for instance, go a long way towards clarifying what the conditions were like on the day of the accident, provide details about the aftermath of the crash, and establish the types of damages the victims sustained. Read on for a few tips on taking photographs at the scene of a car crash.
Take Photos of Vehicle Damage 
It's important for accident victims to take photos of any damage to the vehicles that were involved in a crash. These photos can be used to determine how a crash happened and who was at fault, so it's important to get photos from different angles, with and without flash, and from varying distances. Doing so will create the most complete and accurate depiction of a crash.
Take Photos of Visible Injuries 
Besides taking photos of the vehicular damage resulting from an accident, an injured party should also be sure to document his or her injuries. Photos can help provide an accurate visual record of what an injured party suffered before he or she obtained treatment and the injuries started to heal. Accident victims should take photos as soon as possible after the crash, so that they can provide an accurate representation of the extent of those injuries.
Document the Accident Scene 
Along with taking photos of vehicle damage and physical injuries, accident victims should also be sure to document the scene of the crash as a whole. This will require detailed photos of the scene from different angles and viewpoints. Nearby roadway construction or proof of adverse weather conditions can also be photographed to help prove fault. It's also a good idea to take photos of nearby street signs, as well as a photo of where the vehicles came to rest.
Note Any Skid Marks or Accident Debris 
Things like skid marks left by tires can offer clues about how fast a vehicle was traveling prior to the crash, a person's braking pattern, and whether a car was sliding before or during a crash. Similarly, photos of debris from the accident can help establish the exact location of the crash, which may be necessary if the vehicles are moved out of the road by law enforcement. Pieces of the vehicle, like bumpers, that become dislodged during the accident can also help establish the speed and direction of the accident.
Take Photos of Important Documents
 Finally, accident victims can benefit from taking photos of important documentation after an accident. For instance, instead of writing down a driver's information (e.g. insurance details or driver's license number), an accident victim can take a photo of the other party's id card and insurance information. This is the best way to ensure that injured parties don't write down the wrong information, which can make it a lot harder to seek compensation down the road.
The Right Size Law Firm to Meet Your Needs 
Photos can play a critical role in the outcome of a car accident case. To learn more about how this evidence can be used to pursue compensation in your own case, call the dedicated Tampa car accident lawyers at Anderson & Anderson today.
Sources: 
forbes.com/advisor/car-insurance/what-to-do-after-accident/
ojp.gov/pdffiles1/Photocopy/98667NCJRS.pdf