Dangerous Intersections in Tampa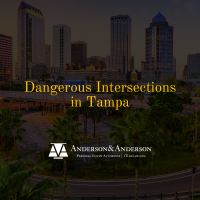 Tampa is one of the most heavily populated areas in Florida. It stands to reason that the more vehicles there are out on the roads, the more accidents are likely to occur. In fact, there are certain areas and intersections in Tampa that are far more dangerous to drive through and are known for being hazardous.
Though you may not be able to avoid these intersections altogether, knowing which intersections are riskier can help you to proceed with caution and prepare you to drive more carefully through these areas. Read on to learn which intersections in Tampa have more potential to be dangerous.
Bruce B. Downs Blvd at Fletcher Avenue East
With four to seven lanes of traffic on each side of this intersection and street signs that can be difficult to read, it's no wonder that the intersection at Bruce B. Downs Boulevard and Fletcher Avenue East is a hot spot for car accidents. With so much congestion, driver negligence has been known to play a significant role in the accidents that occur at this location.
Sheldon Road at Waters Avenue West
With a lack of bicycle paths and twenty-five-plus total lanes of traffic, the intersection at Sheldon Road and Waters Avenue West has roughly 80-100 accidents every year. That's not to mention the multiple shopping centers, Dunkin' Donuts location, and two gas stations that surround this area—the traffic from people visiting these nearby locations also ups the chances of a collision.
In any case, if you cannot avoid this intersection, proceed very cautiously with no distractions.
Waters Avenue West at Himes Avenue North
Right off of Route 580 we have Waters Avenue West at North Himes Avenue. This intersection sees nearly 100 accidents each year, and while the traffic signs are easy to read, the area is heavily populated with shopping, restaurants, gas stations, doctor's offices, and other attractions and services. The more vehicles in any given area, the greater the risk of an accident occurring.
Anderson Road at Waters Avenue West
Another risky intersection in Tampa is Anderson Road and Waters Avenue West. With bus stops on the east and westbound sides of Waters Avenue West and the Veterans Expressway closeby, this intersection has been known for some of the most serious accidents in Tampa. Proceed cautiously when making your way through this area, but it doesn't necessarily have to be avoided at all costs.
Hillsborough Avenue at Sheldon Road
While the intersection at Hillsborough Avenue and Sheldon Road is very pedestrian friendly, with crosswalks surrounding the entire area, there are far too many traffic lights and lanes of traffic meant to accommodate drivers who are visiting the many shopping areas that surround it.
This area may be unavoidable and dangerous, so when driving through here, you should keep your phone away, your seat belt on, and be aware of potentially negligent drivers.
Meet with a Tampa Car Accident Lawyer
Avoiding these dangerous intersections altogether can be a challenge, and even when you drive as safely as possible, you could be seriously injured in a collision if someone else isn't paying attention.
If you find that you've been involved in an accident in any of the aforementioned intersections or another area of Tampa entirely, a highly trained Tampa car accident lawyer at Anderson & Anderson may be able to help you obtain compensation for your suffering. You can give our office a call at 813-251-0072 or submit the quick contact form we have included at the bottom of this page.