Wide Right Turn Truck Accidents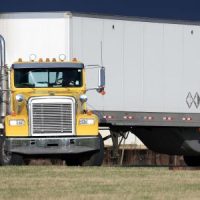 You may have noticed, while driving, that many tractor trailers have small signs on the back that say "Caution – this vehicle makes wide right turns". Unfortunately, these signs are small and many drivers don't see or notice them, putting them at risk of being involved in a wide right turn truck accident.
Why Trucks Make Wide Right Turns
Commercial trucks make wide right turns simply because they are so large. Most, for instance, haul trailers that are more than 70 feet long, which is a lot of truck to turn in a relatively small space. Because we drive on the right side of the road in the U.S., our left-hand turns are always wide, as they require crossing an oncoming lane first. The situation is usually a bit different for right turns. However, while passenger vehicles have tight turning radii, commercial trucks still require more space to execute a right turn. This in turn, can mean that a driver must also take an outside lane when it's available. Other times, it could require veering into an adjacent lane.
Types of Wide Right Turn Accidents
There are a few circumstances in which a truck that is making a right-hand turn could be involved in a crash, including when:
A truck driver makes a right turn on a two-lane road, where a truck may veer into oncoming traffic;
A truck driver makes a right turn on a multi-lane road, where a truck driver swerves into an adjacent lane to complete the turn;
A driver attempts to squeeze into a lane next to a turning truck; or
A truck driver is traveling too fast or turning at too sharp of an angle and rolls the vehicle.
Because of their size and weight, commercial vehicles can cause severe injuries. Accident victims involved in wide right turn crashes could find themselves suffering from broken or crushed bones, internal damage, head trauma, and spinal cord injuries.
Truck Driver Liability
Truck drivers who are involved in wide right turn accidents are often to blame for the collision if they:
Were driving too fast;
Failed to use their turn signal;
Failed to check their blind spots;
Were driving while distracted;
Were under the influence of drugs or alcohol; or
Disobeyed traffic signs or signals.
A truck driver who engaged in these types of driving behaviors could be held liable for causing a wide right turn accident, as could the trucking company itself if it failed to properly maintain the vehicle's turn signals or didn't train the driver on how to properly execute a wide right turn. Another driver could also be held partially responsible for a wide right turn accident if he or she attempted to squeeze into a neighboring lane, or cut off the truck driver entirely.
Compensation for Truck Accident Victims
The law firm of Anderson & Anderson has been serving residents of the Tampa Bay area and surrounding communities for more than 35 years. Our team has dedicated itself to helping victims recover compensation and rebuild their lives after devastating accidents. To learn more about your own legal options following a truck accident, call one of our experienced Tampa truck accident lawyers at 813-251-0072 today.
Sources:
fmcsa.dot.gov/ourroads/wide-turns
trucksmart.udot.utah.gov/wide-turns/