Slip And Fall Accidents In Nursing Homes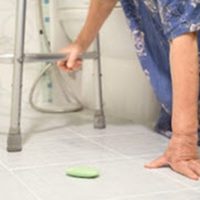 Many of us think of nursing homes as places where elderly relatives can go to obtain the medical treatment they need, all while under the safe supervision of professionals. Unfortunately, nursing homes don't always prove to be safe for residents, many of whom sustain serious injuries after being involved in slip and fall accidents on the premises. Nursing home staff are required to take preventive measures to help protect their residents from these kinds of accidents. Those who fail to do so could be held liable for their failure to protect their residents.
Nursing Home Residents are More Prone to Injury
The residents of nursing homes are often elderly, or suffering from complicated medical conditions, which can make them more susceptible to slip and fall accidents. Many chronic conditions, for instance, make it more difficult to balance or to walk securely, while certain medications can cause residents to be disoriented or dizzy. Some residents need the assistance of a wheelchair, walker, or cane, which if used improperly, can also contribute to slip and fall accidents. Unfortunately, not all slip and fall accidents in nursing homes can be chalked up to medical conditions and old age, but could be the result of nursing home negligence.
Preventing Slip and Fall Accidents in Nursing Homes
By failing to take certain precautionary measures, nursing homes can make it much more likely that a resident will be involved in a slip and fall accident. Examples of the most common forms of nursing home negligence include:
Failing to educate staff about fall risk factors;
Providing poor lighting in common areas;
Failing to warn residents of slippery or wet floors;
Failing to install grab bars and handrails;
Failing to ensure that residents are eating or have the proper nutrition;
Failing to supervise or check in on residents regularly;
Failing to review a resident's prescribed medications for potential fall risks; and
Failing to adjust bed heights and install bed rails.
These kinds of problems are thought to contribute to almost 30 percent of nursing home falls. Fortunately, by addressing these issues ahead of time, nursing homes can help prevent serious accidents. For instance, implementing exercise programs can help residents improve their balance and strength, which can help reduce falls. Ensuring that residents have the right footwear and properly fitting clothing can also go a long way towards preventing slip and fall accidents. Nursing homes that fail to take these steps could, however, be held liable for their negligence by injured nursing home residents and their families.
Call Anderson & Anderson for Help
Slip and fall accidents should never be underestimated. Slip and fall accidents in nursing homes should perhaps be taken even more seriously, as they are much more likely to result in serious, and even fatal injuries. For this reason, it is important for accident victims and their families to act quickly to secure their rights to compensation. The experienced Tampa slip and fall lawyers at Anderson & Anderson can help assess your case and if possible, file a claim against the at-fault party. Call us at 813-251-0072 or fill out an online form to schedule a free consultation today.
Sources:
cdc.gov/homeandrecreationalsafety/falls/adultfalls.html
law.cornell.edu/cfr/text/42/483.25