Sharing The Road With Motorcycles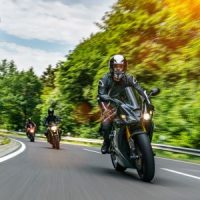 Reflecting the increasing number of people who are finding motorcycles to be a more economical mode of transportation than passenger vehicles, the number of these vehicles on Florida roads has steadily gone up in recent years. Unfortunately, riding motorcycles is not without its risks. It is, however, possible to safely share the roads with motorcyclists. Read on to learn more.
Common Causes of Motorcycle Accidents
Because they are so much smaller than passenger vehicles, motorcycles tend to be a lot harder to see, easily staying hidden in someone's blind spot. For these reasons, drivers should use extra care, especially when changing lanes or when turning at intersections, to keep an eye out for motorcyclists. In fact, failing to do so is the most common cause of collisions between motorcyclists and drivers. Other accidents occur because:
A driver, who was parked on the side of the road, opened up his or her car door into the path of an oncoming motorcyclist;
One of the parties was speeding, as this lowers response time and increases the impact upon collision;
A driver made an abrupt stop, resulting in a rear-end collision; and
A driver misgauged a motorcyclist's distance when making a left turn, or otherwise made a right-of-way error.
If your own motorcycle accident was caused by this type of negligence, don't hesitate to reach out to our legal team to learn more about your recovery options.
Tips for Safely Sharing the Road
Because the injuries resulting from collisions between motorcycles and passenger vehicles tend to be so severe, it is important for all motorists to take whatever steps they can to prevent these kinds of crashes, including:
Checking one's blind spots before turning or changing lanes;
Using extra care when driving past motorcyclists, as their vehicles are more easily affected by sudden winds;
Keeping one's distance from motorcycles, which gives them more room to swerve or stop abruptly to avoid potholes, gravel, slippery patches, or even another collision; and
Refraining from trying to share a lane with a motorcyclist, as lane splitting is both dangerous and illegal in Florida.
While taking these steps doesn't guarantee that you won't be involved in a motorcycle accident, it can go a long way towards keeping you safe.
Were You Involved in a Motorcycle Accident? Our Tampa Legal Team Can Help
Even the most careful of motorists could end up involved in a motorcycle accident. If this happened to you or a loved one, you are undoubtedly facing hefty medical bills and a long uphill road to recovery. Fortunately, you don't have to go through this process alone. At Anderson & Anderson, our dedicated Tampa motorcycle accident lawyers have been helping victims assert their legal rights for nearly 40 years. As what you might refer to as a big small law firm, our practice, which is made up of two lawyers and a large support staff, has the capacity to meet all of your needs, while not being so large as to be impersonal. To set up a meeting with a member of our legal team, call us at 813-251-0072 today.
Sources:
iii.org/fact-statistic/facts-statistics-motorcycle-crashes
nhtsa.gov/share-road-its-everyones-responsibility