What Are My Legal Rights After A Sideswipe Accident?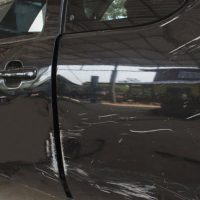 When two vehicles collide, the impact can cause not only significant property damage, but also serious injuries. Unfortunately, this is true even when two vehicles don't fully collide, but suffer a glancing blow, as in a sideswipe accident. In fact, because the majority of vehicles lack side protection, even a minor impact during a sideswipe accident can result in serious injuries. It is, however, possible for those who have been involved in such a collision through no fault of their own, to seek compensation for their losses from the at-fault party who caused the crash.
What is a Sideswipe Accident?
Sideswipe accidents occur when the corner or side of one vehicle strikes the side of another, while traveling in the same direction. The crumple zones of most vehicles are in the front and back, which gives occupants more protection in the event of a head-on or rear-end collision. The only thing protecting occupants in a sideswipe or t-bone collision, however, is the thin exterior of the vehicle. This means that even a minor collision, when it involves a sideswipe, can subject occupants to much greater force than they would expect with similar force in a rear-end or head-on crash. Sideswipe collisions are also dangerous because the impact can lead the drivers of one or both cars to lose control of their vehicles, forcing them off the path on which they were originally driving.
Top Causes of Sideswipe Accidents
Most sideswipe accidents are the result of unsafe lane changes. In fact, the Florida Department of Highway Safety and Motor Vehicles (FDHSMV) estimates that more than 8,400 crashes occurred in Florida in 2020 alone because of improper passing. This is not, however, the only cause of sideswipe accidents, which can also be attributed to:
Distracted driving, with one driver veering into another lane due to inattention;
Driving aggressively;
Moving into an adjacent lane to avoid a collision with another vehicle;
Merging improperly; and
Failing to check one's blind spot.
Whatever the cause, sideswipe collisions almost always result in significant property damage to one or both vehicles and could also end up causing serious injuries.
Liability in Sideswipe Accidents
In most cases, it is the driver of the vehicle that initiated contact with the other who is responsible for a sideswipe crash. A driver who failed to check his or her blind spot and made an unsafe lane change, scraping alongside another car in the process would, for example, most likely be held entirely responsible for the accident. Unfortunately, establishing liability in Florida sideswipe accidents is often easier said than done, with at-fault parties attempting to avoid liability entirely. However, even if an injured party is found to be partially liable for a sideswipe accident, he or she won't be barred from recovery under Florida's comparative negligence laws.
Were You Involved in a Sideswipe Accident?
Proving that someone else caused your sideswipe accident can be difficult. Fortunately, the dedicated Tampa car accident lawyers at Anderson & Anderson are here to help. To speak with a dedicated member of our legal team, please call us at 813-251-0072 today.
Sources:
flhsmv.gov/pdf/crashreports/crash_facts_2020.pdf
leg.state.fl.us/Statutes/index.cfm?App_mode=Display_Statute&URL=0300-0399/0316/Sections/0316.085.html