Rear-End Accidents Are Dangerous For Motorcyclists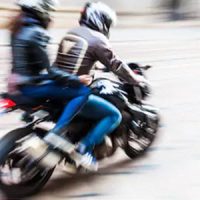 Any type of collision between a motorcycle and a passenger vehicle tends to result in some sort of injury for the motorcyclist, who are generally far more vulnerable to injury than vehicle occupants. Rear-end collisions, however, come with a whole different set of risks for motorcyclists. In fact, these kinds of collisions often end up being one of the most devastating kinds of collisions in which a motorcyclist can be involved.
Rear-End Motorcycle Accident Injuries
Whether a motorcyclist strikes, or is struck by a vehicle in a rear-end crash, the injuries involved are almost always devastating. For instance, when a motorcyclist is hit from behind, the rider is often thrown off the motorcycle entirely and into the road, or even into traffic. This can cause serious injuries, especially to the head, face, teeth, and jaw. Broken fingers, wrists, and arms are also common in these kinds of crashes, with riders automatically attempting to break their falls. If a motorcyclist is struck from behind by a car, on the other hand, the sudden loss of momentum can throw him or her into the vehicle itself and then onto the asphalt. When there are multiple points of impact, a person is much more likely to sustain a number of traumatic injuries, especially to the neck, back, and head.
Diagnosing and treating the catastrophic injuries that are typically the result of rear-end motorcycle accidents can be prohibitively expensive for accident victims. Fortunately, those who can provide proof that someone else violated a traffic law or was otherwise negligent and caused the accident, could be entitled to reimbursement for their accident-related losses.
Causes of Rear-End Motorcycle Crashes
Because the injuries sustained in rear-end motorcycle accidents are so severe, it is especially important for riders to be able to recognize when someone else was at fault for an accident. Examples of negligent conduct that could cause this type of accident include:
Driving while distracted;
Falling asleep at the wheel;
Driving while under the influence;
Making illegal lane changes;
Making illegal u-turns;
Brake checking;
Driving with inoperable brake lights; and
Tailgating.
An injured motorcyclist who can point to these kinds of erratic or careless driving behaviors could be entitled to compensation for his or her losses, including reimbursement for medical bills, lost wages, property damage, and pain and suffering. If a victim's injuries are so severe that he or she passes away, then that person's surviving relatives could also be eligible for wrongful death damages.
Contact Our Experienced Tampa Motorcycle Accident Attorneys
At Anderson & Anderson, our dedicated Tampa motorcycle accident lawyers have been helping Florida accident victims hold negligent drivers accountable for almost four decades. To put this experience to work in your own case, call our office at 813-251-0072 and set up an initial case review with our legal team. You can also reach us via online message.
Sources:
clickorlando.com/traffic/2022/12/30/motorcyclist-killed-in-rear-end-crash-in-leesburg/
floridatoday.com/story/news/2022/12/02/cocoa-harley-davidson-motorcyclist-killed-in-crash-near-interstate-95-interchange-on-state-road-520/69695899007/