Which Commercial Trucking Regulations Could Affect My Accident Case?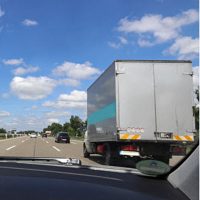 Trucking companies and the drivers they employ are required to comply with a variety of federal regulations, all of which are designed to help lower the risk of dangerous accidents. Unfortunately, unreasonable demands on drivers have made it increasingly common to violate these rules, which puts anyone else on the road at risk of being involved in a devastating crash. Read on to learn more about the types of rule violations that can contribute to accidents and how proof of those violations could impact your truck accident claim.
Hours of Service Rules
Some of the most important federal rules with which trucking companies must comply are the hours of service guidelines. These rules strictly limit the number of hours that a truck driver can drive in a single day without taking break periods. Under these regulations, commercial truck drivers:
Can only drive for a maximum of eleven hours, after which they must take ten consecutive hours off duty;
Are prohibited from driving beyond 14 consecutive hours after coming on duty;
Must take a 30 minute break after driving for a period of eight cumulative hours; and
Cannot drive after 60/70 hours on duty over seven or eight days.
Failing to follow these rules can result in truck driver fatigue, which in turn, significantly increases a driver's chances of causing a crash. If you believe your own truck accident was caused by truck driver fatigue, call our office today for help asserting your legal rights.
Commercial Truck Maintenance
Besides hours of service rules, trucking companies must also properly maintain their vehicles. This means that trucking companies must systematically inspect their vehicles to ensure that all parts and accessories are in safe and proper condition. In addition to this requirement, truck drivers are also directed to complete a daily written post-trip inspection report that identifies any problems with their trucks. The trucking company must review these reports and either certify that the repair has been made or that doing so is not immediately necessary. Finally, trucking companies must also keep careful records of all inspections and repairs. A failure to abide by these rules can have dangerous consequences, leading to problems like brake failure or tire blowouts, both of which can cause devastating accidents.
Truck Driver Training
Federal law also requires that trucking companies ensure that their drivers are qualified to operate a commercial vehicle, are properly trained on safe driving practices, and have a commercial driver's license. There is also additional training for drivers who will be transporting dangerous or hazardous cargo. A failure to comply with these rules can result in untrained and unqualified people driving trucks that often weigh as much as 80,000 pounds. If a lack of training ends up causing a car crash, the injured parties could hold the trucking company liable for its negligence.
Experienced Tampa Truck Accident Lawyers
With more than 35 years of experience handling truck accident claims, the dedicated Tampa truck accident lawyers at Anderson & Anderson have become well-versed in the rules and regulations with which trucking companies must comply. To put that knowledge to work in your own case, call us at 813-251-0072.
Sources:
fmcsa.dot.gov/regulations/hours-service/summary-hours-service-regulations
fmcsa.dot.gov/safety/passenger-safety/inspection-repair-and-maintenance-motor-carriers-passengers-part-396