Nighttime Crash Risks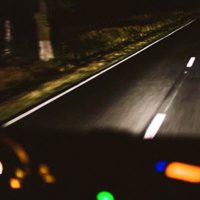 Driving at night is dangerous, as visibility is significantly reduced, making it much harder, if not impossible to catch and avoid every hazard on the road. Bad weather, like rain or fog only exacerbates this problem, leaving drivers with a lot less time to avoid a crash. Read on to learn more about nighttime crash risks.
Driver Fatigue
Of the many risks that are more common at night than during the day, driver fatigue is perhaps the most likely to occur. Certain people are more like to suffer from fatigue while driving at night, including:
Individuals who work the late shift;
Drivers who suffer from sleep disorders;
Drivers who take certain prescription or over-the-counter medications;
Truck drivers; and
Drivers who are impaired by drugs or alcohol.
Motorists who drive while fatigued or who fall asleep at the wheel pose a serious risk to other road users. Furthermore, these accidents are often severe, as sleepy drivers typically don't have enough time to brake before the crash.
Visibility
A lack of visibility also makes nighttime driving more dangerous. Even with street lights, it's simply a lot harder to see at night, a problem that is only exacerbated by the improper use of high beams by other drivers. When used at the wrong time, high beams can temporarily blind other drivers. It's also a lot more difficult to see pedestrians and cyclists at night, especially at crosswalks where there are no traffic signs or lights, increasing the odds of a collision with one of these vulnerable road users.
Wildlife and Domestic Animals
Seeing an animal dart into the road and being able to react in time to avoid a crash is always hard, regardless of the time of day. Doing so at night often proves impossible, as headlights don't always provide enough light to see an animal in the road soon enough to avoid an accident. Animals are also more likely to freeze on the road when they see approaching headlights, making a collision even more likely.
Preventing Nighttime Crashes
There are a few steps that drivers can take to reduce their chances of being involved in a crash at night, including:
Wearing glasses if prescribed;
Making sure to use their headlights properly and to avoid looking directly into the light of oncoming vehicles, instead looking down and to the right;
Adjusting the interior lights so they aren't too bright, as the contrast between the dark conditions outside the car and the bright ones inside the vehicle could make it harder for the eyes to adjust;
Keeping the windshield, windows, and mirrors clean, which improves visibility; and
Adjusting their speed at night, leaving enough distance between other vehicles to avoid a crash if necessary.
Unfortunately, even the most careful of drivers could end up injured in an accident at night because of someone else's negligence.
Representing Tampa Accident Victims for 35 Years
If you were involved in a car crash at night through no fault of your own, call the dedicated Tampa car accident lawyers at Anderson & Anderson for help seeking compensation for your losses.
Sources
nsc.org/road/safety-topics/driving-at-night
traffic.gov.scot/night-driving-tips