Filing A Wrongful Death Lawsuit In Florida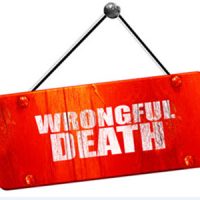 The trauma that accompanies losing a loved one unexpectedly because of someone else's carelessness is devastating. Frustratingly, many families who are just trying to deal with their grief also have to bear the financial burden that so often accompanies the death of a loved one. One way to recover these losses is to file a wrongful death claim against the at-fault party who caused the accident.
Who Can File a Wrongful Death Suit?
In Florida, the surviving family members of someone who passed away in an accident because of someone else's wrongful act, negligence, default, or breach of contract or warranty, could be eligible to file a wrongful death claim. Essentially, any negligent, reckless, or intentional act that results in somebody's death qualifies as a wrongful death, in which case, a family member could file suit against the at-fault party. In Florida, the only person who has the legal right to file a wrongful death claim is the deceased's personal representative, or executor. This person is tasked with acting in support of the decedent's estate and family members.
Wrongful Death Beneficiaries
Even though a victim's personal representative is the only individual who can file a wrongful death lawsuit in Florida, that person does so on the behalf of the victim's family. However, under state law, only blood or adopted relatives who were financially and emotionally dependent on the deceased will qualify as a wrongful death beneficiary. These include:
A surviving spouse;
A minor child under the age of 25 years old;
Adult children, but only if there is no surviving spouse;
Parents of a minor child;
Parents of an adult child, but only if there isn't a surviving spouse or child; and
Siblings, if the victim wasn't survived by a spouse or child.
Deciding who can qualify as a decedent's relative for wrongful death beneficiary purposes can be complicated. For help, call our legal team today.
Determining Liability in a Wrongful Death Case
Even if a person qualifies as a wrongful death beneficiary, he or she can only recover damages for a loved one's death if he or she can prove that the at-fault party was reckless, negligent, or intentionally acted in a way that resulted in the victim's death. To establish that someone was reckless, a claimant will need to prove that the person engaged in an action despite knowing that those actions could seriously harm or even kill somebody else. Examples of reckless conduct include speeding, driving while intoxicated, or cutting someone off. A claimant could also recover by showing that the at-fault party was negligent, which means that he or she failed to use reasonable care. Failing to keep one's property safe for visitors, driving while distracted, and medical malpractice are all common examples of negligence. Finally, someone who engaged in an intentional and illegal act, like committing a crime and caused an injury, could be held liable for wrongful death in civil court.
Hiring a Tampa Wrongful Death Lawyer
The dedicated Tampa wrongful death lawyers at Anderson & Anderson have been serving the Tampa Bay area and surrounding communities for more than 35 years. For an assessment of your own legal options, please call 813-251-0072 today.
Sources:
law.cornell.edu/wex/wrongful_death_action
m.flsenate.gov/Statutes/768.19