Did Your Motorcycle Accident Occur In An Intersection?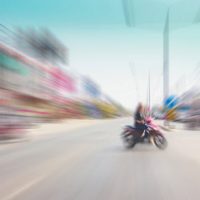 Motorcycle accidents can happen anywhere where there are motorcycles and passenger vehicles in the same location. There are, however, certain areas where collisions between these two kinds of vehicles tend to happen more often than others. Intersections, for instance, have proven to be an especially dangerous place for motorcyclists, who don't enjoy the same protections as other motorists, like seatbelts and airbags.
Common Causes of Motorcycle Intersection Accidents 
Motorcycle accidents almost always have more severe repercussions for riders than for the occupants of the other passenger vehicle. Intersection accidents, however, have proven to pose a particularly high risk of injury to motorcyclists. The National Highway Traffic Safety Administration (NHTSA), for instance, estimates that almost half of fatal motorcycle accidents occur at or near intersections. Most of these accidents involved a motorcyclist who was driving straight and another vehicle that turned left into the rider's path because that driver:
Was speeding through a red light;
Was distracted;
Failed to yield;
Was under the influence of drugs or alcohol; or
Had fallen asleep at the wheel.
This kind of negligence can have catastrophic injuries for the motorcyclists involved, who are almost always thrown from their vehicles into the road and sometimes into traffic.
Common Motorcycle Accident Injuries 
Many motorcyclists who are injured in intersection accidents are struck from the side, similar to a T-bone crash. This makes them more prone to certain types of injuries, including:
Crushed and broken lower limbs;
Pelvis and hip injuries;
Abdominal injuries;
Head trauma;
Shoulder and upper arm injuries;
Severe lacerations; and
Road rash.
Treating these kinds of injuries can be extremely expensive. Furthermore, even when treated, there is no guarantee that an accident victim will return to his or her pre-injury level of health. Many motorcycle accident victims, for instance, end up suffering from chronic pain and permanent disability that affects not only their employability, but also their day-to-day lives. In these cases, negligent drivers can and should be held liable for failing to take reasonable precautions to prevent intersection accidents. Injured riders who can prove that someone else's negligence contributed to or caused their accident could be entitled to reimbursement for:
Past and future medical expenses;
Lost wages and benefits;
Property damage;
Emotional distress;
Pain and suffering; and
Wrongful death.
While financial compensation can't always make up for the pain and trauma of being involved in a vehicle collision, it can play a critical role in helping accident victims get the treatment they need in order to recover.
Call Anderson & Anderson for Legal Help Today 
If you or a loved one were injured in a motorcycle accident in an intersection or anywhere on a Florida roadway and have questions about your legal rights to compensation, don't hesitate to call us at Anderson & Anderson for help. You can reach one of our dedicated and compassionate Tampa motorcycle accident attorneys or a member of our large support staff by calling us at 813-251-0072 or by filling out one of our contact forms.
Sources:
 one.nhtsa.gov/links/GetUpToSpeed/index.html
ncbi.nlm.nih.gov/pmc/articles/PMC3217482/