Slippery Surface Falls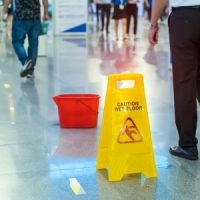 Most slip and fall accidents happen because there is a lack of traction between a person's foot and the floor. This could be due to everything from a temporary spill to the use of too much wax on the floors. In these situations, a property owner could be held liable for failing to keep the premises safe for visitors.
Slippery Surfaces Cause Accidents 
Wet surfaces are the primary reason that people are injured in slip and fall accidents. A recently cleaned floor, for instance, that had not had enough time to dry could be a slipping hazard. Similarly, spills can lead to wet surfaces and subsequent slips. The weather can even play a part in these kinds of accidents, with visitors bringing water and mud onto the premises from the outdoors. It's important to note, however, that a surface doesn't have to be wet in order to be slippery and potentially dangerous. Highly polished floors, for example, can be slippery. This is especially true for certain types of flooring, including tile and marble, which can be slippery even when dry.
Who is Responsible for Preventing Slippery Surfaces? 
Property owners, managers, and business operators are legally obligated to keep their premises safe for visitors. This includes ensuring that floors aren't slippery by:
Inspecting them regularly for spills;
Ensuring that the staff uses the proper cleaning products;
Repairing any potential slipping hazards when they arise;
Placing absorbent mats in entryways when there is inclement weather or in areas that are prone to spills (like the kitchen);
Using wet floor signs to warn visitors of a potentially slippery surface; and
Placing anti-skid adhesive tape in areas with substantial foot traffic.
Florida property owners who fail to take these steps can be held liable for any resulting accidents, but only if the injured party can prove that:
The owner had actual knowledge that the dangerous condition existed; or
The owner had constructive knowledge that the dangerous condition existed.
Actual knowledge implies that the owner knew about the hazards because he or she had seen it or it had been reported by other staff members. Constructive knowledge, on the other hand, means that while an owner may not have actually known about the problem, the type of hazard was a regularly occurring condition or had existed so long that a property owner exercising reasonable care would have known about and corrected it.
Consult a Tampa Slip and Fall Lawyer 
At Anderson & Anderson, we understand how a serious accident can upend a victim's life. That's why our Tampa slip and fall lawyers have dedicated themselves, for the last 40 years, to helping accident victims and their families in Tampa seek financial compensation from the at-fault parties who caused their injuries. You can focus on physical recovery and getting your life back in order and we'll use all of our experience and resources to pursue your legal case. Call us at 813-251-0072 or reach out to us via online message to set up a free case review today.
Sources:
leg.state.fl.us/Statutes/index.cfm?App_mode=Display_Statute&Search_String=&URL=0700-0799/0768/Sections/0768.0755.html
forbes.com/advisor/legal/personal-injury/slip-and-fall-lawsuit/