Motorcycle Accident Shoulder Injuries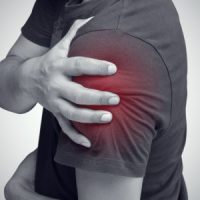 While a motorcycle accident victim who suffers a shoulder injury may feel as though he or she has lucked out in not sustaining a more serious injury, the reality is that shoulder injuries are often much more severe than they first appear, causing significant pain and affecting the overall quality of a person's life. Fortunately, it is possible for accident victims who were not at fault for their crashes to recover compensation for these kinds of injuries.
Types of Shoulder Injuries 
There are a lot of different types of shoulder injuries that a person could suffer in a motorcycle accident, but certain kinds are more common than others, including:
Torn rotator cuffs, which occur when any of the four separate muscles that wrap around the head of the shoulder and provide us with range of motion are torn, usually after a significant trauma;
Fractures to the clavicle or collarbone, which extends from the top of the chest to the top of the shoulder and can result in swelling and a limited range of motion;
Dislocations, which can occur when enough force is placed on the shoulder joint, or when the joint is bent in the wrong direction, that the soft tissues stretch or tear, allowing the end of the bone to pop out of the socket that holds it in place and resulting in significant pain and a lack of movement;
Proximal humerus fractures, which occur when too much force is placed on the large bone that forms the upper part of the arm, resulting in severe swelling, a lot of pain, and reduced range of motion; and
Nerve damage, which can occur when bone fragments or swollen tissue compresses on the nerves in the shoulder joint, causing everything from numbness and weakness to a tingling sensation or paralysis.
If you sustained any of these types of shoulder injuries in a motorcycle accident, you could be entitled to monetary compensation for your financial losses.
Who Covers the Cost of Diagnosis and Treatment? 
Diagnosing and treating these kinds of shoulder injuries can be prohibitively expensive, as it typically requires a variety of tests, including CT scans, MRIs, and x-rays, as well as physical examinations. Many accident victims must also foot the bill for transportation via ambulance, overnight hospital stays, surgeries, and medication. Even once an injured party has been treated, he or she will likely require physical therapy, the ongoing use of certain medications, and other rehabilitative measures. In many cases, accident victims are unable to work for weeks or even months after their accidents. Fortunately, it is possible for motorcycle accident victims who can prove that someone else was responsible for their crash, to recover compensation for these losses from the at-fault party.
Were You Hurt in a Motorcycle Accident? 
There are few accidents that cause injuries as serious as those sustained in motorcycle crashes. Injuries to the upper extremities are especially common, with many riders thrown from their vehicles entirely upon collision. At Anderson & Anderson, our dedicated Tampa motorcycle accident lawyers have more than 35 years of experience helping motorcycle accident victims seek compensation from the parties responsible for causing their crashes. For an evaluation of your own case, call us at 813-251-0072 or complete and submit one of our brief online contact forms.
 Sources: 
ncbi.nlm.nih.gov/pmc/articles/PMC7938721/
hss.edu/condition-list_rotator-cuff-injuries.asp