Common Slip And Fall Accident Causes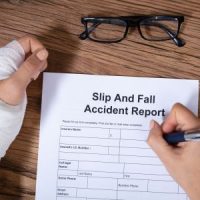 There are a lot of conditions that, if present on someone's property, could present a risk of injury to visitors. We've included a list of some of the most common hazards encountered by Florida residents below.
Indoor Slip and Fall Hazards
Slip and fall hazards can be divided into two general categories: indoor hazards and outdoor hazards. When they occur indoors, which tends to happen more often, it is usually the result of a visitor coming into contact with:
Wet floors, whether due to recent waxing or mopping, spilled food or liquids, leaks, or even tracked-in water;
Torn, loose, frayed, or bulging carpeting or rugs;
Staircases with broken or missing handrails, or crumbling or uneven steps;
Sloping or uneven flooring;
Debris or miscellaneous objects in the walkways;
Poorly constructed flooring transitions; and
Open cabinets and drawers.
Lighting can also play a role in causing slip and fall accidents. It is much more likely, for instance, that a person will fall when climbing a poorly lit stairwell. Even overly bright lights can cause a glare that also increases a person's chances of falling.
Outdoor Slip and Fall Hazards
Despite its sunny weather, Florida still has its fair share of outdoor slip and fall hazards, including:
Broken and uneven concrete on walkways and entrances;
Slippery walkways from rain, ice, spills, or even decaying leaves and other plant matter;
Divots and cracks in parking lot asphalt;
Potholes; and
Temporary walkways and construction ramps.
Because these kinds of defects are so dangerous for visitors, property owners are required to conduct regular inspections of their premises and if they find a hazard, to fix it as soon as possible. Property owners that fail to take these precautionary steps could end up being held liable for their negligence if it results in a slip and fall accident.
Pursuing a Slip and Fall Claim
When pursuing a slip and fall claim against a property owner, an injured party will need to prove that he or she sustained an injury because of a hazard on the owner's property. An injured party will then need to prove that the owner either:
Created that hazard (and so had to have known about it) and failed to correct it; or
Wasn't aware of the hazard, but would have been if he or she had exercised the proper degree of care in inspecting and maintaining the premises.
If successful, a slip and fall accident victim could be entitled to compensation for:
Medical expenses;
Long-term care costs;
Lost wages;
Loss of future income due to disability; and
Pain and suffering.
For help seeking reimbursement for your own slip and fall-related injuries, don't hesitate to reach out to our legal team today.
Experienced Slip and Fall Lawyers in Tampa
Call 813-251-0072 to speak with one of the experienced Tampa slip and fall lawyers at Anderson & Anderson about your own legal options following a slip and fall accident. You can also set up an initial consultation with a member of our legal team by filling out an online contact form.
Sources:
cdc.gov/niosh/topics/retail/slips.html
leg.state.fl.us/Statutes/index.cfm?App_mode=Display_Statute&URL=0700-0799/0768/Sections/0768.0755.html