Grocery Store Slip and Fall Accidents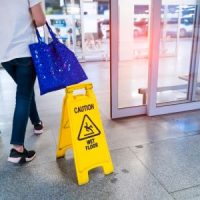 Slip and fall accidents can happen just about anywhere, but there are certain locations where these kinds of accidents are more likely to occur. Grocery stores, for instance, which usually have slick floors and where customers are much more likely to encounter spills, are some of the most common sites for this kind of accident. Fortunately, accident victims who can provide proof of negligence could be eligible for compensation for their injuries.
Grocery Store Hazards 
While most people don't think of grocery stores as being a dangerous place to visit, the reality is that these locations have a lot of characteristics that make slip and fall accidents much more likely to occur, including:
Slippery floors from malfunctioning refrigerators or freezers;
Spills in the aisles;
Items falling from shelves;
Wet entryways during storms;
Aisles obstructed with merchandise; and
Packaging left in the aisles.
The hazards that make grocery stores a likely place for slip and fall accidents are not limited to the indoors. Grocery carts that have been left unattended, a lack of lighting in the parking lot, and  trucks loading and unloading cargo also make parking lots and entrance ways dangerous for customers.
Types of Slip and Fall Injuries 
The kinds of injuries that slip and fall accident victims sustain vary in seriousness and can include everything from cuts and bruises to broken bones, but the most likely to occur in grocery stores are:
Fractures;
Lacerations;
Sprains and strains;
Head trauma;
Whiplash; and
Herniated discs and other spinal cord injuries.
These injuries can take an enormous physical and financial toll on injured parties, who will likely need to undergo a lot of expensive testing to diagnose their injury, after which they will need to pay for treatment. Even after treatment, a person could still suffer from chronic pain or disability for years to come. Accident victims whose injuries can be attributed to a property owner's negligence can and should seek compensation for these losses.
Florida Law Protects Slip and Fall Victims 
Under Florida law, slip and fall victims can hold a grocery store liable for their injuries if they can prove that the store owner or manager knew or should have known that the hazard existed, but failed to fix the problem or warn customers about it. If the slip and fall accident involved a spill, however, then the injured party doesn't need to provide actual proof that the property owner knew about the condition. Instead, the injured party need only demonstrate constructive knowledge of the spill, which can be established by proving that:
The dangerous condition existed for so long that the property owner, if it had been exercising ordinary care, would have known about it; or
The condition was foreseeable because it occurred with such regularity.
To learn more about the kinds of evidence you may need to file a successful slip and fall claim, please reach out to our legal team today.
Helping Tampa Accident Victims for Almost 40 Years 
For help seeking compensation for your slip and fall-related injuries, please call us at 813-251-0072 and set up a meeting with one of the experienced Tampa slip and fall attorneys at Anderson & Anderson today.
Sources: 
leg.state.fl.us/Statutes/index.cfm?App_mode=Display_Statute&URL=0700-0799/0768/Sections/0768.0755.html
scholar.google.com/scholar_case?case=9468061730371849434&q=slip+and+fall+law+florida&hl=en&as_sdt=6,45