Work Zone Car Accidents In Tampa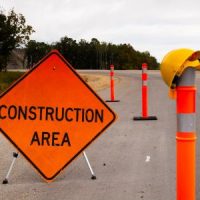 Many of us roll our eyes when we encounter a work zone while driving, anticipating long lines of traffic and delays. Work zones, however, like road work sites, construction job sites, and other temporary project areas, can also be hazardous for drivers and workers alike. Fortunately, accident victims who are injured in work zone accidents are often able to recoup related losses from the negligent parties who cause them.
Why are Work Zones Dangerous?
Work zones pose a very real danger to drivers, pedestrians, and workers alike for a number of reasons. Work sites, for instance, see many types of traffic, like trucks, pedestrians, passenger vehicles, and heavy machinery, all of which are required to share a limited space, which can increase the risk of accidents. Work zones also disrupt typical traffic patterns. Two lanes of traffic, for example, could be turned into one temporarily, which can cause confusion (and mistakes) amongst drivers who are used to a certain route.
Work zones can also be distracting for drivers, who may stop to look or lose focus on driving because of the proximity to loud, disruptive, heavy equipment, sand or gravel, or traffic jams. In other cases, work zone employees may fail to take the necessary steps to keep the site safe, failing to use the proper signage or not wearing adequate safety gear.
Liability for Work Zone Accidents 
Who can be held liable for a work zone accident depends on the specific facts of a case. A construction company's failure to take the necessary precautions could, for instance, open it up to liability if someone else is injured in the crash. A driver who was distracted and caused a rear-end collision and subsequent multi-car pile-up could, on the other hand, would likely be held liable for the medical bills and property damage of the other drivers. For help determining the cause of your own work zone accident, reach out to our legal team today.
Preventing a Work Zone Accident
It's not always possible to avoid being in a work zone accident, but there are steps that drivers can take to help reduce their chances of being involved in a collision, including:
Avoiding work sites by checking traffic reports before leaving home;
Slowing down, as speeding is one of the leading causes of work zone traffic accidents;
Putting away distractions, like cell phones and driving defensively;
Making eye contact with workers on the site to ensure that they are aware of the driver's presence;
Following the hand signals of workers when conditions have changed, making signs outdated or irrelevant; and
Leaving extra room, especially around large machinery or trucks, which have a lot of blind spots.
Unfortunately, even taking these measures isn't enough to guarantee that a driver won't be involved in an accident. In these cases, accident victims may need to seek compensation for related medical bills and lost wages.
A Comprehensive Tampa Auto Accident Practice
At Anderson & Anderson, we have been helping accident victims and their families in Tampa for more than 40 years. To learn more about how we can help with your own accident case, reach out to our dedicated team of Tampa car accident lawyers at 813-251-0072 today.
Sources:
fdot.gov/Safety/workzonesafety/default.shtm
ops.fhwa.dot.gov/wz/resources/facts_stats.htm