Proving Negligence In A Slip And Fall Case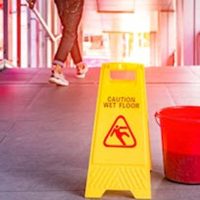 To file a successful slip and fall claim, a person will first need to prove that the owner of the property where the injury occurred was negligent. This can be a complicated endeavor, as property owners are rarely willing to admit when their premises are hazardous in some way or aren't properly maintained. To recover damages, an accident victim will need to compile strong evidence of the property owner's fault.
A Property Owner's Legal Responsibility
Property owners that invite others on to their premises are legally required to keep their properties safe, repairing potential dangers in a timely fashion. Unfortunately, not all property owners abide by these rules, leaving visitors at risk of serious injury. In the event of a slip and fall accident, an injured party will need to prove that the property owner either knew of the hazardous condition on the property, or should have known about it, but didn't, due to a failure to conduct regular inspections and maintenance. Timing often proves to be a crucial factor in these kinds of cases. Generally, the longer a risky condition existed, the stronger an injured party's claim.
Dangerous Conditions
There are a lot of different types of conditions that can result in serious injuries to visitors, including everything from bulging or torn carpets and wet or recently waxed floors to uneven steps or missing handrails on the staircase. Loose mats and rugs by the doors can also pose a risk, as can conditions outside of a structure, like icy sidewalks, cracks in the pavement, or potholes in the parking lot. Property owners should eliminate or remedy these risky conditions, mopping up spills quickly, repairing broken items, and removing tripping hazards. Failing to do so can open them up to liability if someone is injured as a result.
Evidence in Slip and Fall Cases
To prove that a property owner was aware of a specific danger on the premises, a claimant will need strong evidence, including:
Security camera or cell phone footage of the accident;
Eyewitness statements;
Accident reports of other incidents on the property;
Photographs from the scene of the accident; and
Medical records and bills.
This type of evidence can make or break a case. When it exists it can help establish that an owner was liable for a visitor's injury. It can, however, be difficult to obtain this evidence. Some property owners, for instance, may claim that they already erased their security camera footage or could refuse to turn over accident reports. By retaining an experienced attorney, accident victims will be prepared to counter these claims.
A Dedicated Team of Slip and Fall Lawyers and Support Staff
To fully understand how to prove negligence in a slip and fall case, you'll want to consider reaching out to a reputable law firm in Florida. As one of the longest-running personal injury firms in Tampa, the slip and fall attorneys at Anderson & Anderson have the background, experience, and resources to help you get the results you deserve. Call us at 813-251-0072 today to set up a free consultation.
Sources:
leg.state.fl.us/Statutes/index.cfm?App_mode=Display_Statute&URL=0700-0799/0768/Sections/0768.0755.html
law.cornell.edu/wex/negligence