The Value Of Your Slip And Fall Accident Claim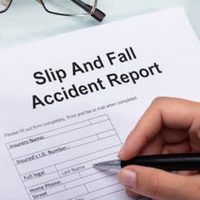 There are a variety of factors that affect the value of a slip and fall case, but two of the most important are the defendant's insurance coverage and the severity of the plaintiff's injury. To learn more about how these factors could affect recovery in your own case, call an experienced Florida slip and fall lawyer.
Insurance Coverage
With auto accident cases, the damages that an injured party can recover are often limited by insufficient insurance coverage. Slip and fall cases are a bit different, especially if they occur on the property of an established business, like a mall, restaurant or grocery store. These kinds of businesses typically have good insurance coverage and adequate assets to compensate an injured party in the event that insurance isn't sufficient. The damages, on the other hand, might be more limited if someone is injured in the home of another, where recovery is often capped at the amount of the homeowners' insurance policy.
Injury Severity
Besides insurance coverage, the next big question in determining the value of a slip and fall claim is the severity of the claimant's injuries. For those whose injuries are relatively minor, damages will typically be lower. Accident victims who are permanently injured, on the other hand, may result in larger awards to cover their more expensive medical bills and lost wages.
Available Slip and Fall Damages
In any Florida slip and fall liability case, injured parties who can prove a property owner's negligence could be entitled to reimbursement for:
Past and future medical treatment;
Past and future lost wages; and
Pain and suffering resulting from the accident.
The first two categories are relatively simple to calculate, although doing so will require documentary evidence, like billing statements, medical records, and pay stubs. Demonstrating pain and suffering, on the other hand, tends to be more complicated, requiring evidence of how an injury impacted a claimant's life. The level of negligence exhibited by the at-fault party could also come into play when calculating damages, as could whether or not the injured party contributed to the accident in some way. If, for instance, a property owner put out a sign indicating that the floor was wet and a visitor ignored it and then slipped and fell, then his or her damages award would likely be significantly reduced.
The Right Size Law Firm to Meet Your Needs
Anderson & Anderson was founded in 1983 and has been serving the Tampa Bay areas and surrounding communities ever since. This has given us a unique perspective on the local court systems and how judges evaluate injury cases. We also have a large support staff that has the capacity to meet all of the needs of our clients, ensuring that every aspect of their case is handled properly. We are not, however, so large as to be impersonal. If you retain our services, you will meet with both of our attorneys directly, while receiving support from our staff. To speak with one of our experienced Tampa slip and fall lawyers about your accident case, call us at 813-251-0072 or reach out to us via online message.
Source:
floridabar.org/rules/florida-standard-jury-instructions/civil-jury-instructions/civil-instructions/#500