What To Do After A Slip And Fall Accident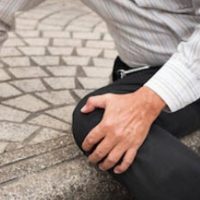 While slip and fall accident victims are often entitled to compensation for their injuries, actually recovering those damages can be difficult. However, taking a few important steps after the accident can go a long way towards helping injured parties strengthen their claims. We've included a few of those steps below.
Get Medical Attention
One of the most important things that slip and fall accident victims can do after sustaining an injury is to seek immediate medical attention right away. If emergency responders don't come to the scene to evaluate the injured party, he or she should consider visiting an urgent care clinic or emergency room as soon as is reasonably possible. This is true even for those who don't believe that they have been severely injured, as some slip and fall injuries can go undetected for days or even weeks. Generally, the longer a person waits to receive treatment, the more difficult it may be to prove that an injury was the result of a particular slip and fall accident. It's also important for claimants to keep copies of all of their medical treatment records, which can play a critical role in proving damages down the road.
Take Photos & Document the Accident
It's also important for slip and fall accident victims to start documenting the scene of the accident. This includes taking photos of the floor or hazard that led to the fall. This is a crucial step because once a property owner becomes aware of an accident, he or she will likely try to clean it up or repair it as soon as possible. Besides photographing the specific hazard that led to the accident, slip and fall victims should take note of the lighting conditions and general layout of the area. Victims will also want to identify any witnesses who saw the accident and should also take steps to report the accident to the property manager. This report can help pin down the time of the accident and the details of what happened. Prior reports can sometimes be used as evidence of a property manager's general failure to keep the premises safe.
Contact a Florida Slip and Fall Attorney
Injuries sustained in a slip and fall accident can be life-changing, making it difficult for injured parties to go to work or fulfill their day-to-day duties. One of the best courses of action to begin the recovery process following this type of accident is to reach out to an experienced slip and fall attorney, who can advocate on the victim's behalf, seeking the financial resources to compensate them for medical treatment and lost wages.
Reach Out to Our Legal Team for Help 
At Anderson & Anderson, our dedicated legal team has been helping Florida residents recover after their accidents for more than 40 years. Contact us online or call 813-251-0072 to speak to one of our compassionate and experienced Tampa slip and fall lawyers about your case. A member of our team is standing by to address your questions and concerns.
Sources:
leg.state.fl.us/statutes/index.cfm?App_mode=Display_Statute&URL=0700-0799/0768/Sections/0768.81.html
leg.state.fl.us/Statutes/index.cfm?App_mode=Display_Statute&URL=0700-0799/0768/Sections/0768.0755.html