Tire Failure-Related Truck Accidents Can Be Complicated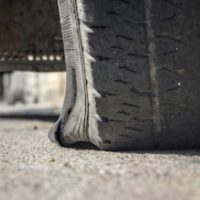 When we think about the dangers of commercial trucks, their size is often the first thing that comes to mind. While it's true that commercial vehicles are much taller, longer, and heavier than standard passenger-sized cars, this is not the only danger that they pose. Commercial trucks undergo a lot of wear and tear, driving many more thousands of miles, with heavy cargo, so it makes sense that their tires tend to wear out much more quickly. Unfortunately, this significantly increases the chances of a sudden blowout on the freeway, which can be very dangerous for other drivers.
What is Tire Failure?
Tire failure occurs when a vehicle's tires lose their tread or traction, or blowout due to a defect in manufacturing. Most cases of tire failure can be attributed to one of the following causes:
Contact with road debris, like glass, or a road defect, such as a deep pothole with jagged edges;
Excessive weight, which can cause a tire to pop; and
A failure to properly maintain the vehicle's tires.
Unfortunately, tire failure in trucks tends to be explosive and can lead to a loss of control of the vehicle. This is especially true of commercial vehicles, which are already heavy and unwieldy as it is. The driver of a truck that experiences tire failure could also end up swerving into another lane in an effort to retain control.
Who is At-Fault for a Tire Blowout?
There are actually a number of parties who can be held responsible for an accident caused by a blown tire, including:
The driver of the truck if he or she failed to conduct regular inspections of the tires;
The trucking company if it didn't inspect and properly maintain the truck's tires, or if it failed to ensure that its trucks weren't exceeding the tire weight limit; and
The tire's manufacturer if the blowout was the result not of improper maintenance or tire wear, but a defect in the materials or manufacturing process.
Determining which of these parties was at fault for a blown tire accident can be difficult, as trucking companies and their insurers are generally unwilling to accept responsibility for a crash. This is where the help of an experienced attorney is especially crucial, as he or she will be able to investigate the cause of the accident itself, but also the company and the driver, any of whom may have a record of violations.
How Anderson & Anderson Can Help
Anderson & Anderson was founded in 1983 and has been serving the Tampa Bay area and surrounding communities ever since. Our years as Tampa residents have given us a unique understanding of the local court systems and how judges and juries typically evaluate injury cases. Furthermore, with a team of two experienced lawyers and a large support staff, we have the ability to meet all of our clients' needs, while not being so large as to be impersonal or imposing. To learn more about how we can put the experience and resources of our dedicated Tampa truck accident attorneys to work in seeking compensation after your own accident, call our office at 813-251-0072, or send us an online message today. We are ready to handle any issue that arises during your case.
Sources:
fmcsa.dot.gov/safety/research-and-analysis/large-truck-crash-causation-study-analysis-brief
ecfr.gov/current/title-49/subtitle-B/chapter-III/subchapter-B/part-393#393.75