Tips for Safe Driving Near School Zones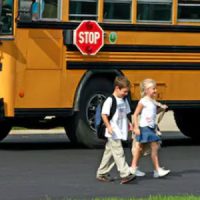 perhaps the most devastating. This is especially true in pedestrian accident cases. Unfortunately, these kinds of accidents are a lot more likely to happen during certain parts of the year and with thousands of children returning to school this month, that time is officially upon us. There are, however, steps that Florida drivers can take to help reduce their chances of causing a school zone accident.
The Dangers Posed by School Zones 
Last year, there were almost three million students enrolled in more than 4,000 schools in Florida. Many of those students walk or ride their bicycles to school, which can be a perilous endeavor in school zones, where pick-ups and drop-offs can cause heavy congestion. In an effort to help cut down on the number of accidents occurring in school zones, the Florida Department of Transportation (FDOT) recently implemented a series of new guidelines that emphasize the safety of students and pedestrians.
New FDOT School Zone Guidelines
 Under the state's new school zone rules, what used to be a 20 mile per hour speed limit in many cities has been reduced to 15 miles per hour. In locations where the posted speed limit is 35 miles per hour or higher, the school zone speed limit has now been reduced to 20 miles per hour. While these measures will hopefully improve the safety of children and pedestrians in general, there are still steps that parents and drivers can take to help prevent accidents in school zones.
Preventing Accidents in School Zones 
To help avoid being the cause of a car or pedestrian accident in a school zone, Florida drivers are encouraged to:
Be on the lookout for school zones, which are marked by specific types of pavement markings, signs, and crosswalk barricades;
Be prepared for more traffic in school zones and give themselves more time when driving through these areas;
Lower their speeds when entering a school zone, which can help drivers improve their reaction times and mitigate the risks of an accident;
Keep an eye out for pedestrians crossings in school zones throughout the day; and
Stop for school buses and refrain from passing a stopped bus that has its stop sign extended and its lights on.
Unfortunately, even the most careful of pedestrians or drivers could end up involved in an accident, in which case, it may be necessary to file a legal claim to seek compensation for accident-related losses.
Experienced Pedestrian Accident Lawyers 
At Anderson & Anderson, we understand how devastating pedestrian accidents can be for victims and their families, especially when the victim is a child. While no amount of financial compensation can alleviate the suffering caused by this kind of crash, recovering damages can go a long way towards helping families obtain treatment, pay off medical bills, and generally smooth the way for the recovery process. For help from one of our experienced Tampa pedestrian accident lawyers, please call our office at 813-251-0072 today.
Sources: 
tallahassee.com/story/news/education/2023/01/09/leon-county-school-zones-comply-with-florida-law-lower-speed-limit/69790019007/#
kctv5.com/2023/08/15/tips-school-zone-drivers-this-year/