Pedestrian Fatalities Have Increased by Almost 80 Percent Since 2010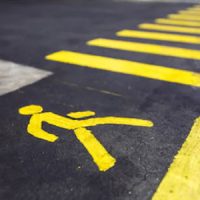 Pedestrian accidents have become an increasingly serious problem in the U.S. over the last decade. In fact, according to a recent study released by the Governors Highway Safety Association (GHSA), pedestrian fatalities are increasing faster than all other types of traffic fatalities combined, going up by 77 percent since 2010. All other traffic fatalities, on the other hand, which includes any accidents that involve a motor vehicle, have increased by 25 percent. With the risk of injury so high, it is important for Florida motorists and pedestrians to have a thorough understanding of their legal rights and options in the event of such an accident.
Pedestrian Fatalities are on the Rise 
The GHSA's recent report reveals an alarming and continuing upward trend in pedestrian accidents in the U.S. For instance, between 2021 and 2021, pedestrian deaths went up an estimated 16 percent, in comparison to other traffic fatalities which increased by ten percent. These pedestrian accidents resulted in the deaths of 7,508 pedestrians in 2022 alone. The increasing dangers of being a pedestrian in the U.S. has a number of different causes, including:
An uptick in dangerous driving behaviors, such as distracted driving;
A lack of proper roadway infrastructure, including sidewalks;
Increasing speed limits; and
The closer proximity of major roads to homes and businesses.
Unfortunately, these have proven to be serious problems in Florida, which was ranked by the GHSA as the third most dangerous state for pedestrians in the U.S.
Recovery for Pedestrian Accident Victims 
The injuries sustained by victims of pedestrian accidents are almost always severe, often reaching the level of catastrophic. This makes sense when you consider how vulnerable pedestrians are as road users. Unlike motorists, they are not protected by the frame of the vehicle and don't have the assistance of seat belts and airbags. As a result, injuries, which can range from lacerations and head trauma to internal injuries and broken bones almost always require emergency care and hospitalization.
Tragically, many of these injuries prove to be fatal for the pedestrian involved. In these cases, the surviving relatives of the victim may be entitled to wrongful death damages to cover the cost of their loved one's medical bills, lost income, and pain and suffering, as well as their own emotional distress. While no amount of money can make up for the loss of a loved one, recovering accident-related damages can go a long way towards helping families get back on their feet financially after the loss of a loved one.
Call Anderson & Anderson for Help with Your Case 
At Anderson & Anderson, we are dedicated to helping Florida accident victims recover the compensation that they are owed and that will help them begin the road to recovery. For an assessment of your own legal situation, call 813-251-0072 and set up a meeting with one of our experienced Tampa pedestrian accident lawyers at your earliest convenience. You can also schedule a consultation by reaching out to a member of our legal team via online message. Call or contact us online to get started on your case today.
Sources: 
ghsa.org/sites/default/files/2023-06/GHSA%20-%20Pedestrian%20Traffic%20Fatalities%20by%20State%2C%202022%20Preliminary%20Data%20%28January-December%29.pdf
nhtsa.gov/research-data/fatality-analysis-reporting-system-fars