Did You Suffer a Catastrophic Injury?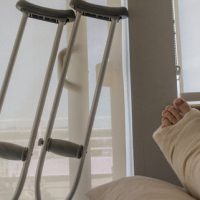 Accidents leave a lot of damage in their wake. Depending on the type of accident, a person could, for instance, suffer not only significant property damage, but also devastating injuries, all of which are expensive to address. Grappling with these challenges, however, becomes even more difficult when the injuries sustained reach the level of catastrophic.
What Qualifies as a Catastrophic Injury? 
While an injury may feel catastrophic to an accident victim, not all injuries actually qualify as this serious. Generally, to satisfy the definition of catastrophic, an injury must be so severe that it results in long-term disability, or an inability to perform gainful employment of any kind. Common examples include:
The loss of a limb;
A traumatic brain injury resulting in a permanent loss of cognition;
Serious injury to at least one of the body's major systems;
Injuries to the spinal cord;
Paralysis and permanent nerve damage; and
Third degree burns and attendant scarring or disfigurement.
Whatever the cause of these kinds of injuries, whether a car crash, a slip and fall accident, a construction accident, or medical malpractice, the results are usually life-changing.
What to do if You Suffered a Catastrophic Injury 
The first thing that an accident victim should do, whether an injury qualifies as catastrophic or not, is to seek medical attention as soon as possible. This is the best way to ensure that an injured party receives timely and potentially life-saving treatment. Once the immediate danger has passed, however, there are steps that an accident victim can take to improve his or her chances of holding the at-fault parties who caused the injury accountable for their actions, including:
Continuing with the course of treatment ordered by the doctors, as well as post-treatment therapies;
Keeping thorough records of medical expenses, including the cost of treatment, assistive devices or prosthetics, physical therapy, home health aides and caregivers, and medications, as well as proof of lost wages and earning capacity;
Gathering evidence, not only of his or her financial losses, but also of the accident that resulted in the injury, such as photos from the accident scene, police and incident reports, and eyewitness testimony; and
Contacting a personal injury lawyer, who can help build a strong case against the at-fault party and can negotiate a settlement or take a case to trial if necessary.
To learn more about the steps you can take to improve your chances of filing a successful personal injury claim against the person who caused your own catastrophic injury, reach out to our dedicated legal team today.
Contact Our Tampa Personal Injury Lawyers Today 
At Anderson & Anderson, we hope that you and your loved ones never have to deal with a catastrophic injury. We are, however, here for you in the event that you do have to contend with the aftermath of this type of devastating injury. Call 813-251-0072 or reach out to our experienced Tampa personal injury attorneys online to learn more about your legal options.
Sources: 
forbes.com/advisor/legal/personal-injury/catastrophic-injury/
forbes.com/advisor/car-insurance/what-to-do-after-accident/