The Dangers Of Mid-Block Crosswalk Accidents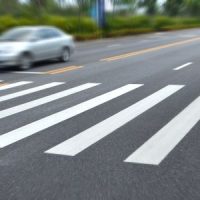 While many assume that intersections are the most dangerous places on the road for pedestrians, the reality is that an estimated 70 percent of serious pedestrian accidents occur in non-intersection locations. That is not to say that crosswalks aren't dangerous. In fact, an alarming number of the most serious crashes between pedestrians and motorists occur at what are referred to as mid-block crosswalks. These marked crosswalks cross multiple lanes, but are not located at intersections and sometimes aren't even accompanied by traffic signals or stop signs. Although city planners across Florida have taken steps to make mid-block crosswalks safer, collisions at these locations still can and do occur.
What are Mid-Block Crosswalks?
Mid-block crosswalks look similar to intersection crosswalks, but differ in key ways. For instance, many mid-block crosswalks have pedestrian islands for those attempting to cross two-way traffic. Curb extensions, also known as bulb-outs can also be used to help slow speeds and narrow roadways. The biggest difference, however, between mid-block crosswalks and other types of crossings is that the former aren't always marked by traffic lights or stop signs, making them more dangerous for pedestrians to cross.
Mid-Block Crosswalks Can be Dangerous
Despite efforts to make mid-block crosswalks safer, accidents at these locations continue to occur at an alarming rate, often because drivers simply don't expect to see pedestrians at locations other than intersections. Furthermore, vehicles stopped for pedestrians at mid-block crossings, when on the inside lane, can impede the sight of motorists in the outside or center lanes, making it impossible for them to see approaching pedestrians. Even implementing measures like medians and pedestrian islands doesn't guarantee that a pedestrian will be able to cross at a mid-block crosswalk safely.
Recovery After a Mid-Block Crosswalk Accident
Crosswalk injuries are often serious, especially if the driver was speeding at the time of the accident. Tragically, many of these collisions prove to be fatal for the pedestrian. Injured pedestrians, or their surviving family members, can attempt to recover compensation for their losses from the at-fault driver, including reimbursement for:
Past and future medical bills, such as ambulance services, hospital stays, medications, surgeries, and therapy;
Lost wages incurred while the injured party recovered;
Loss of future income if the victim suffers from permanent disability as a result of the accident;
Pain and suffering endured by the victim;
Emotional distress; and
Wrongful death, which includes loss of companionship and services.
Recovering damages isn't always as easy as it should be, even when fault is clear. Negligent drivers and their insurers often attempt to blame the victim for partially causing the accident, or otherwise use unfair delaying tactics to pressure claimants into accepting unfair settlement offers. Fortunately, even if a pedestrian was partially at fault, he or she won't necessarily be barred from recovery under Florida's comparative negligence laws.
Reach Out to Our Dedicated Tampa Pedestrian Accident Lawyers for Help
If you or a loved one were hurt in a pedestrian accident, you could be entitled to compensatory damages. To schedule an evaluation of your own case, please contact the dedicated Tampa pedestrian accident lawyers at Anderson & Anderson today.
Sources:
crashstats.nhtsa.dot.gov/Api/Public/ViewPublication/811888
safety.fhwa.dot.gov/PED_BIKE/univcourse/pdf/swless16.pdf