Rollaway Truck Accidents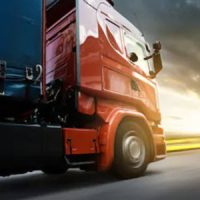 Commercial trucks vastly outweigh the standard passenger sized vehicle, often clocking in at more than 80,000 pounds. In many cases, this cargo is not only heavy, but also hazardous. For these reasons, even what would qualify as a fender bender between two average-sized vehicles can have devastating consequences when one of the vehicles is a commercial truck. Frustratingly, these collisions are often the result of an easily avoidable oversight. Rollaway accidents, for instance, could be the result of a truck driver's failure to set the parking brake and can lead to significant property damage and serious injuries.
What is a Rollaway Accident?
Most modern vehicles come equipped with safety features that protect occupants while driving. Not all crashes, however, occur when driving, but could happen when a vehicle is parked. Rollaway accidents, for instance, occur when a parked vehicle starts moving while left unattended, eventually colliding with other vehicles. These kinds of accidents tend to happen more often with commercial vehicles, which, due to their heavy cargo, must often be supported with wedges and blocks to keep the tires from moving when parked. In other cases, a driver may simply forget to engage the emergency brake, which can have serious consequences for such a heavy vehicle. Alternatively, a problem with the parking brake or transmission could be the cause of an accident, in which case, the vehicle manufacturer would likely bear responsibility for the crash.
Preventive Measures
A rollaway truck can quickly gather speed, which, combined with the heavy and potentially dangerous cargo it is hauling, make it very dangerous for anyone else on the road. Recognizing these dangers, federal regulators put a number of rules in place to help prevent rollaway accidents. For instance, truck drivers are encouraged to conduct a careful inspection when they exit their vehicles, which includes:
Setting the air brakes immediately;
Making sure that the ignition is turned off;
Double checking the air brakes;
Using wheel chocks, wedges, or blocks if a truck is parked on an incline; and
Being sure to look back at the truck to see if it is secure.
Truck drivers who don't take these precautionary measures can be held liable for their failure to use reasonable care. They are not, however, the only parties who could end up being held liable for a rollaway accident. Trucking companies that fail to train their employees on how to prevent rollaway accidents could, for instance, share responsibility for a crash, as could a vehicle parts manufacturer if the accident was the result of a defective part or vehicle malfunction.
Schedule a Free Consultation Today
The injuries and property damage resulting from truck accidents are almost always severe, which can leave victims frustrated and financially burdened with medical bills. Fortunately, it is possible for accident victims to recover compensation for accident-related medical bills, lost wages, and property damage if they can prove that someone else's negligence caused or contributed to the crash. For help building your own personal injury case, call 813-251-0072 and set up a meeting with one of the dedicated and compassionate Tampa truck accident lawyers at Anderson & Anderson today.
Sources:
crashstats.nhtsa.dot.gov/Api/Public/ViewPublication/812515
lni.wa.gov/Safety/Research/FACE/Files/PropaneTruckDriver.pdf