How Unsafe Cleaning Practices Can Cause Slip And Fall Accidents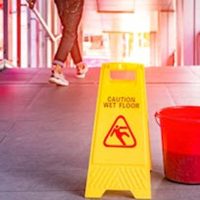 Preventing slip and fall accidents requires a multi-tiered approach, including choosing the correct flooring, regularly inspecting the premises for spills and other hazards, and using proper cleaning practices. Unfortunately, property owners don't always take the precautions that they should, failing to instruct employees on proper cleaning methods, using the wrong products, or failing to hire qualified maintenance contractors.
Common Cleaning Errors 
Slip and fall accidents happen when there is a lack of friction between someone's foot and the floor on which he or she is walking. While there could be a lot of contributing factors to this problem, unsafe cleaning practices are one of the most common. Often, this takes the form of a failure to give or follow instructions on how particular types of flooring need to be cleaned. Other common cleaning errors that could result in a slip and fall accident include:
Failing to completely clear away soap residue;
Failing to give an area enough time to dry after cleaning and before allowing foot traffic;
Using too much wax, polish, or other finishing material;
Failing to strip away previous layers of finish;
Failing to buff a floor surface;
Applying too much, or the wrong type of floor treatment products;
Failing to place caution signs near spills or wet floors to warn visitors;
Failing to make sure there is adequate drainage in areas that are commonly wet; and
Failing to use slip-resistant coatings and mats in doorways.
Sometimes, in their commitment to keeping floors clean and new-looking, property owners actually end up causing a dangerous condition. In other cases, a failure to clean enough can result in the build-up of dangerous residue and spills. In both situations, a property owner could be held liable for failing to keep visitors safe.
Filing a Premises Liability Claim 
A visitor who slipped and fell on someone else's property because of a spill or cleaning mistake could be entitled to reimbursement for injury-related medical expenses, lost wages and benefits, property damage, and pain and suffering. Before a person can recover these damages, however, he or she will need to provide proof of negligence. This could involve demonstrating that a property owner knew of a danger, but failed to address it by cleaning up a spill, placing signs, or taking other precautions. It could also require evidence of a lack of employee training, the use of the wrong cleaning products, or even a history of similar accidents occurring on the property. Reach out to our legal team for help gathering the types of evidence you will need to improve your chances of filing a successful legal claim.
Call Today for Personalized Attention to Your Case 
At Anderson & Anderson, our three experienced Tampa slip and fall lawyers and large support staff have dedicated ourselves to helping accident victims throughout Florida for nearly 40 years. We know the kinds of physical, emotional, and financial toll that serious injuries can take on victims and their families. Don't hesitate to call us at 813-251-0072 to learn more about your legal options.
Sources: 
osha.gov/pls/oshaweb/owadisp.show_document?p_table=STANDARDS&p_id=9714 
floridabar.org/rules/florida-standard-jury-instructions/civil-jury-instructions/civil-instructions/#500