Pursuing Damages After A Motorcycle Accident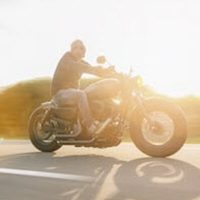 According to the National Highway Traffic Safety Administration (NHTSA), there are more motorcycle fatalities in Florida than in any other state. The likelihood of being involved in a motorcycle accident in Florida makes it particularly important for riders to have a thorough understanding of the claims process required to obtain compensation after a crash.
Motorcycle Accidents are Different than Other Crashes
All car accidents are dangerous, but the reality is that collisions between motorcycles and vehicles tend to be especially devastating. The injuries of motorcyclists, for instance, are usually severe, as they lack the level of protection of other motorists. Even wearing a helmet isn't a guarantee that a rider won't suffer head trauma. Furthermore, motorcyclists can't purchase PIP coverage, which is required for all other drivers and covers up to $10,000 in medical expenses and lost wages regardless of who caused the crash. This means that many injured motorcyclists are forced to rely heavily on their own health insurance plans, which don't usually cover things like lost wages. For this reason, motorcyclists are often forced to step outside of the no-fault system to obtain compensation by filing a claim against the at-fault party in court.
Filing an Insurance Claim
After securing prompt medical care and contacting the police, injured parties (or their loved ones) can initiate the claims filing process. It's a good idea to take photos at the scene of the accident, write down details of what happened, and collect the names and contact information of any witnesses. The next step is to file an insurance claim with the  insurance provider. After conducting an investigation, the insurer may offer the claimant a settlement, or a monetary award in exchange for relieving the insurer of liability. If this settlement isn't enough to cover the injured party's damages, then he or she may be able to file a personal injury claim in court.
Recovering Damages in Court
A motorcyclist who suffered a severe injury can sidestep the insurance claims filing process by filing a lawsuit against the person who caused the accident. Injured parties who go this route will need to provide proof of negligence. If, however, they can establish that someone else was responsible for the crash, then they could be entitled to a damages award compensating them for:
Past and future medical bills, including the cost of diagnosis, treatment, and therapy;
Lost wages;
Loss of future income if the victim is permanently disabled;
Property damage, including the cost of vehicle repair or replacement;
Pain and suffering; and
Wrongful death.
Personal injury damages awards may be larger than the settlements offered by insurers. However, injured claimants who file civil claims will generally have to wait longer to receive their awards.
The Right Size Law Firm to Meet Your Needs
At Anderson & Anderson, we have two Tampa motorcycle accident lawyers and a large support staff. This enables us to meet all of the needs of our clients and make sure that they are personally taken care of. We are not, however, so large as to be impersonal. Here, you'll be able to work with both of our lawyers directly, while also receiving support from our staff. To set up a free consultation, call our office at 813-251-0072 today.
Sources:
crashstats.nhtsa.dot.gov/Api/Public/ViewPublication/813112
leg.state.fl.us/statutes/index.cfm?App_mode=Display_Statute&URL=0600-0699/0627/Sections/0627.737.html