Pursuing A Parking Lot Slip And Fall Claim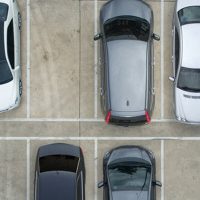 A surprising number of slip and fall claims don't happen inside of buildings, but occur in the parking lots located on those properties. Fortunately, individuals who are injured in these kinds of accidents still have the right to pursue legal compensation from the party who failed to keep those premises safe for visitors.
Causes of Parking Lot Slip and Fall Accidents 
Slip and fall accidents that occur in parking lots can occur for a wide range of reasons, but most involve:
Potholes and craters;
Loose gravel;
Crumbling curbs;
Drainage grates and manhole covers with defective coverings;
Insufficient lighting;
A lack of crosswalks or pedestrian signage;
Uneven surfaces and sloping pavement;
Cracks in the asphalt;
The presence of trash and debris;
Unpainted or improperly painted surfaces;
Standing water, puddles, and oil spills; and
Icy or wet surfaces.
Property owners have an obligation to help prevent, or at least address these kinds of problems. If, for instance, there is a large crack or pothole in the parking lot, caused by the contracting of the asphalt during the cold months and its expansion during the summer, then the owners or managers of that property have a duty to repair the damage or to place signs warning visitors of the tripping hazard. Those who fail to maintain their premises in a safe condition or who don't warn of these kinds of hidden dangers could be held liable if a visitor is injured as a result.
Proof to Support a Parking Lot Slip and Fall Claim 
Slip and fall accident victims who are injured in parking lots will only be entitled to damages if they can prove that the property owner was negligent in maintaining the lot and that they suffered an injury as a result. To prove this, injured claimants will likely need:
Eyewitness statements from other individuals in the parking lot who saw the accident occur;
A copy of any surveillance or security camera footage that captured the accident;
The incident report created by the property owner after the fall;
Medical records from the treating physician or paramedics who responded to the scene;
Photographs from the scene of the accident; and
Incident reports from prior accidents that occurred on the property.
Besides this accident-related evidence, a claimant will also benefit from providing an insurer or a judge with proof of the owner's inspection and maintenance procedures. A lack of such procedures, or a failure to comply with them could help establish the property owner's negligence.
Act Quickly to Secure Your Rights to Compensation 
If you were injured after slipping and falling in a parking lot in Florida, you may be wondering how you will pay your medical bills and other expenses while you recover. At Anderson & Anderson, we can investigate your case, and if possible, help you seek compensation for these losses from the negligent property owner responsible for them. Call our dedicated and experienced Tampa slip and fall lawyers at 813-251-0072 to learn more. You can also set up a free consultation by reaching out to our legal team via online message.
Sources:
 leg.state.fl.us/Statutes/index.cfm?App_mode=Display_Statute&URL=0700-0799/0768/Sections/0768.0755.html
floridabar.org/the-florida-bar-journal/premises-liability-a-notable-rift-in-the-law-of-foreseeable-crimes/