Not All Car Accidents Are Created Equal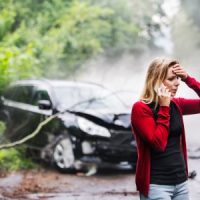 It should come as no surprise to those who have spent time on the road that drivers tend to repeat the same mistakes when behind the wheel. Unfortunately, these mistakes also lead to the same kinds of car crashes. Speeding and not paying attention while driving, for instance, is the cause of most rear-end accidents, while falling asleep at the wheel and drunk driving are responsible for the majority of wrong-way head-on collisions. The specific type of car accident that a person is involved in will have direct implications in determining who was at fault for the crash and how much compensation to which an accident victim could be entitled.
Main Car Accident Categories 
While the majority of serious accidents do involve multiple vehicles, two-car accidents aren't the only type of crash. The other leading categories of car accident include:
Crashes with fixed objects (e.g. light posts and guardrails);
Crashes with non-fixed objects;
Pedestrian accidents and collisions with cyclists;
Collisions with animals;
Crashes with trains and trams; and
Non-collision crashes, like accidents caused by a blown tire or a rollover.
Out of all of these crash types, collisions with other vehicles are the most dangerous, causing the most serious injuries and the most fatalities.
Common Types of Vehicle Collisions 
Just as two-car crashes are the most common of all types of car accidents, there are certain kinds of multi-vehicle collisions that occur more often than others, including:
Rear-end collisions, which are the most common type of two-car collisions, accounting for almost 30 percent of car accidents and occurring when one motorist drives into the back of the vehicle in front of it;
Sideswipe crashes which result in significant property damage and are most commonly associated with lane changes; and
Head-on collisions, which are the least common type of two-car accident, but by far the most dangerous, as both drivers are extremely close to the area of impact.
Driver error is the cause of most multi-car accidents. This includes everything from speeding or ignoring a traffic light to driving while distracted or falling asleep at the wheel. Fortunately, drivers who engage in this kind of negligent behavior can be held liable for their actions if wronged parties can provide adequate proof to an insurer or court. Evidence that can help prove the cause of a crash include photos from the accident scene, traffic camera footage, eyewitness testimony, medical records, and accident reconstruction models.
Reach Out to Our Tampa Car Accident Lawyers 
If you or a loved one were involved in a car accident, don't make the mistake of waiting to start pursuing your claim. Get in touch with one of the skilled and compassionate Tampa car accident lawyers at Anderson & Anderson today. Call us at 813-251-0072 or complete and submit one of our online contact forms to set up a free consultation with a member of our experienced legal team.
Sources:
 cdan.nhtsa.gov/SASStoredProcess/guest
safety.fhwa.dot.gov/roadway_dept/strat_approach/brochure/docs/FHWA-SA-21-025_Head_On_Crashes.pdf