Liability for Florida Parking Lot Accidents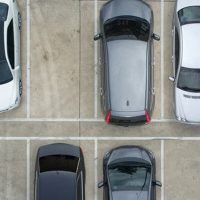 Of the many places that motorists can get into car accidents, parking lots perhaps seem like one of the most low-risk locations. The reality, however, is that accidents happen a lot more in parking lots than most people realize, usually due to distracted driving. These collisions, while they may occur at relatively low speeds can also cause serious injuries and significant property damage.
Hidden Parking Lot Dangers 
Parking lots essentially act as a convergence point for everything from vehicles and pedestrians to shopping carts and employees. Unfortunately, this makes parking lots a ripe environment for fender benders, side swipe accidents, and collisions with pedestrians. Most collisions in these areas can be attributed to a few different causes, including:
Failing to look for pedestrians and grocery carts;
Distracted driving;
Failing to check for or follow parking lot signage;
Reversing without checking one's blind spot; and
Speeding or swerving to compete for a parking spot.
While parking lot collisions between two vehicles may only result in minor damage, repairs can still quickly add up. Unfortunately, even low speed accidents between pedestrians and motorists can result in serious injuries.
What to Do After a Parking Lot Accident 
There are a few steps that accident victims can take after a parking lot crash to help their chances of recovery later on. Of course, the first thing that the parties should do is ensure everyone's safety by checking for injuries, administering first aid, and if necessary, contacting emergency responders. Even if there are no serious injuries, it's a good idea to call law enforcement, who can create an accident report, the details from which can be invaluable to the outcome of a case. Accident victims are also encouraged to:
Gather information, including contact and insurance details, as well as vehicle descriptions from the parties involved;
Document the scene of the accident by taking photos and videos;
Note down the contact information of any eyewitnesses who saw the crash; and
Report the accident to their insurance providers to initiate the claims process.
Finally, accident victims who suspect that they may have suffered an injury should be sure to seek medical attention right away. Failing to do so can endanger a claim and result in less effective treatment.
Feel Free to Contact Us Today 
Determining liability in a parking lot accident can be complicated, as these kinds of collisions often involve multiple parties. Speeding, the right-of-way, parking lot design, visibility, and a variety of other factors can also all come into play. Working with an attorney is one of the best ways to navigate these many complexities. At Anderson & Anderson, our dedicated Tampa auto accident lawyers and large support staff have been helping Florida accident victims seek compensation for their losses for almost 40 years. Allow us to put our resources and experience to work in your own case by calling us at 813-251-0072 and setting up a free consultation today. You can also reach a member of our legal team via online message.
Sources: 
money.usnews.com/money/blogs/my-money/articles/2017-11-06/how-to-handle-a-parking-lot-accident
forbes.com/sites/tanyamohn/2011/09/30/low-driving-speed-can-cause-serious-pedestrian-injury-and-death-report-finds/