Florida's Attractive Nuisance Law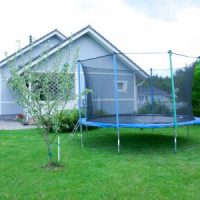 In Florida, property owners have a legal duty to protect the people they invite onto their property. Most people assume that this duty doesn't apply in cases of trespassing. The reality, however, is a bit more complicated, as in certain circumstances, a property owner can be held liable for the injuries of a trespasser, especially if the trespasser is a minor. This is known as the attractive nuisance doctrine. Read on to learn more about this legal theory and how it could affect your own premises liability case.
Conditions that Could Qualify as Attractive Nuisances
Under the attractive nuisance doctrine, property owners can be held liable for injuries sustained by a child who was injured on their land. This is true regardless of whether the child was an invited guest. However, the law only applies if there is a condition on someone's property that actually qualifies as an attractive nuisance, meaning that it is something that could entice a child onto the property via trespass. Hazards that are often considered to be attractive nuisances include:
Swimming pools;
Ponds;
Trampolines;
Tools or heavy equipment;
Appliances;
Lawn equipment;
Playgrounds; and
Landscaping.
All of these conditions, while not hazardous in and of themselves, could prove dangerous to children. Swimming pools and ponds, for instance, pose a very real drowning risk to children, who may not recognize the dangers of swimming alone.
Property Owner Responsibility
Unlike adults, children often don't have the ability to perceive danger or make reasonable judgements on how to protect themselves. Therefore, if there is something dangerous on a property that could prove interesting to unaccompanied youths, landowners have a responsibility to those children. This is where the attractive nuisance doctrine kicks in. To avoid liability for a child's injury, property owners must take steps to protect children from things that could qualify as attractive nuisances. Pool owners, for instance, whose pools are visible from the street are typically required to fence in the area to prevent a child from getting in. A property owner who fails to take these steps could be held liable for a child's injury.
Limits of the Attractive Nuisance Doctrine
The attractive nuisance doctrine is only applicable in cases where a property owner can reasonably anticipate the presence of young children. A property owner whose land  is adjacent to a school or bus stop, for instance, will have more of a duty to keep those premises safe than would someone who lives on a farm on the outskirts of a town. Furthermore, the duty to protect children only extends to measures that can be taken without undue burden on the landowner. A short fence around a pool could, for instance, be deemed reasonable, while fencing off stream running through someone's property could be too expensive to qualify as reasonable.
Dedicated Premises Liability Lawyers in Tampa
At Anderson & Anderson, our experienced Tampa premises liability attorneys have been helping Florida residents hold negligent property owners accountable for their actions for nearly four decades. For a free evaluation of your own case, call us at 813-251-0072 today.
Sources:
law.cornell.edu/wex/attractive_nuisance_doctrine
leg.state.fl.us/Statutes/index.cfm?App_mode=Display_Statute&URL=0700-0799/0768/Sections/0768.075.html