Common Slip And Fall Injuries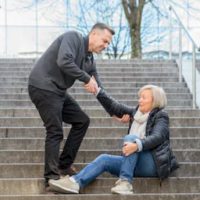 While many people don't think of slip and fall accidents as being serious, the reality is that they can cause significant injuries. Common injuries include broken elbows and wrists, injured shoulders and hips, and ankle strains and sprains. These are by no means, however, the only types of injuries from which a slip and fall victim could suffer.
Shoulder, Arm, and Wrist Injuries
Shoulder, arm, and wrist injuries are some of the most common injuries sustained by slip and fall accident victims, often because these are the parts of the body that we use when we try to brace ourselves during a fall. Broken bones are common, as are dislocations and injuries to the soft tissue and nerves, like sprains, strains, and tears.
Hip, Knee, and Ankle Injuries
The arms aren't the only limbs that are prone to injury in slip and fall accidents, as many victims suffer lower limb injuries as well, especially to the knees and ankles. Hip fractures are common, as this is often the first point of impact when a person falls. These kinds of injuries are particularly common amongst the elderly, who may suffer from brittle bones. Knee injuries, like ligament tears, for instance, are common because people often twist them on their way down. Knee dislocations can also occur, which could require surgery to repair. Slip and fall victims also often suffer from sprained, strained, and broken ankles when they lose their footing.
Cuts and Lacerations
Besides broken bones and soft tissue injuries, slip and fall victims are also prone to severe cuts and lacerations. This is especially common in cases where a person falls onto debris, broken glass, or sharp metal, although they can also occur anytime someone strikes the ground hard enough. Besides often requiring stitches or sutures in order to heal, deep lacerations can also cause damage to the muscles, soft tissue, and nerves. Even upon completing treatment, an injured party could still suffer from permanent scarring or disfigurement.
Facial Injuries
Slip and fall victims who fall so suddenly that they are unable to brace themselves in any way often suffer from facial injuries. This could include everything from a severe cut or jaw fracture to a broken nose or eye injury. Unfortunately, those who sustain facial injuries when they fall, also suffer from traumatic brain injuries (TBIs), like concussions, which are often accompanied by debilitating symptoms, such as nausea, headaches, dizziness, and memory loss.
Reach Out to Our Experienced Tampa Slip and Fall Lawyers
At Anderson & Anderson, our dedicated Tampa slip and fall lawyers have been helping Florida residents recover compensation after their accidents for more than 35 years. Because we have been members of this community for so long, we are well-versed in how the local court system works, as well as how our judges and juries evaluate cases. We also know how hard these times can be for accident victims, who may be struggling to make ends meet while they pursue their legal options. For help shouldering this burden, call our office at 813-251-0072 or complete one of our online contact forms.
Sources:
urmc.rochester.edu/encyclopedia/content.aspx?contenttypeid=1&contentid=832
cdc.gov/falls/hip-fractures.html