Facial Injuries Are Common In Car Accidents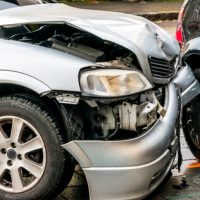 The force of impact in a car accident can cause serious damage to a wide range of body parts. Among the most life-altering, however, are injuries to the head and face. These injuries occur much more often than most people realize. Some studies, for instance, have shown that facial trauma is the single most common injury suffered by car accident victims.
How Car Accidents Can Cause Facial Injuries
Any type of car accident can result in a facial injury. Head-on, rear-end, and side-impact collisions, however, are perhaps the most likely to cause these kinds of injuries, which can occur when a person strikes the steering wheel, dashboard, or window. Flying objects, like shattered glass or debris can also cause injuries to the face. Other facial injuries are the result of a person actually being ejected from a vehicle when he or she flies through the broken glass or strikes the asphalt.
Common Facial Injuries
Car accident-related facial injuries include everything from soft tissue injuries to lacerations and broken bones. Of these injuries, broken bones are often the most serious, as they are both painful and can be slow to heal. The most commonly broken bone in the face is the nasal bone, which can occur when a person strikes the steering wheel or dashboard. Car accidents can also cause broken jaws and eye sockets, both of which can have far-reaching consequences for victims. Broken jaws, for instance, often require surgery and must be wired shut, while broken eye sockets can cause permanent vision damage. Lacerations and abrasions can result in damage to the underlying muscles and nerves in the face, as well as permanent scarring. Moreover, an injury to the face means that there is a higher likelihood that a person suffered a traumatic brain injury as well.
The Cost of Facial Injuries
While some facial injuries are relatively minor and heal after only a few weeks, others can cause lasting damage. Damage to the eyes or ears, for instance, can result in permanent vision or hearing loss, while broken jaws and other fractures can take months to heal. Many facial injuries lead to permanent scarring and disfigurement and can affect a victim's appearance, confidence, and general quality of life. Fortunately, injured parties can often recover financial compensation for their accident-related facial injuries, which could include reimbursement for:
Medical expenses for treatment, medication, and reconstructive surgery;
Medical devices, like vision and hearing aids;
Future medical expenses, such as long-term car or additional treatments;
Lost wages; and
Pain and suffering.
For help seeking compensation for your own accident-related facial injuries, call our office today.
Schedule a Free Consultation with Our Tampa Auto Accident Legal Team
Anderson & Anderson is a multi-generational family law firm that has been helping Florida accident victims pursue their legal rights for more than 40 years. Our dedicated Tampa auto accident lawyers are well-versed in the ins and outs of personal injury law and the nuances of both settlement negotiations and trial. To learn more about how we could help with your own case, call us at 813-251-0072 today.
Sources:
pubmed.ncbi.nlm.nih.gov/8161387/
cbi.nlm.nih.gov/pmc/articles/PMC3256789/