Florida Car Accident Lawsuit Timeline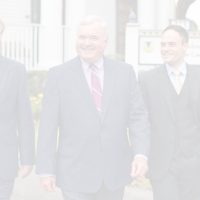 If you were recently injured in a motor vehicle accident and are trying to figure out what your next steps should be, you'll want to enlist the services of a highly trained car accident lawyer as soon as possible.
While you are working on your recovery, your attorney will investigate the accident, determine who should be held to account, quantify your damages, and handle all insurance company negotiations on your behalf.
With so many things to do, you're likely wondering how long it will take to resolve your case. Though every claim has varying factors, we have developed a basic Florida car accident timeline below so you can better prepare yourself for your personal injury case.
Cause and Blame in Motor Vehicle Wrecks
The first step in building a case is figuring out who is at fault for the cause of the auto accident. Your attorney will thoroughly investigate and gather the appropriate evidence. In many car crash claims, the driver who struck your vehicle will be liable for your damages. This is usually because they were driving aggressively, drunk, drowsy, or distracted at the time of the collision.
However, there are other parties, including parts manufacturers and even the Florida Department of Transportation (FDOT) or the Florida Department of Highway Safety and Motor Vehicles (DHSMV), who may have played a part in causing the auto wreck. Once we have determined who is to blame, a claim will be filed with their insurance company so we can begin negotiations.
Negotiating with the Insurance Company
After the investigation has been completed and we know who is responsible for causing the accident, our next step is to obtain a settlement from the responsible party's insurance provider. This can often be more of a challenge than it should be because the insurer is typically going to do everything they can to reduce the amount you should be repaid.
If we are able to convince the insurance company to compensate you appropriately, then you may be able to avoid going to court.
However, it is important to note that there are many instances where the at-fault party's insurance policy is not enough to cover the full extent of your damages. So even though we were able to get the most from the insurer, we may still need to bring your case to court by filing a claim against the culpable entity.
As can be seen, there are many factors that affect how long it takes to be fully compensated for your losses, but you can be sure that your attorney will do everything possible to secure your award quickly.
Work with a Tampa Car Crash Attorney
If you have endured a severe injury as a result of your involvement in a motor vehicle crash and you are prepared to fight for the compensation you're entitled to, consult with a Tampa car accident lawyer at Anderson & Anderson today.
We provide injury victims across Tampa and its surrounding cities with a complimentary case evaluation so we can learn more about how to help you. When you're ready to take advantage of this opportunity, just give our office a call at 813-251-0072 or submit our online contact form at the bottom of this page.