Don't Forget to Include These Documents with Your Slip and Fall Demand Letter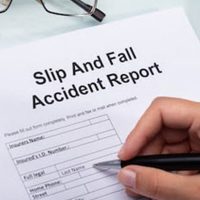 Most civil lawsuits don't go to trial, but are resolved through settlement negotiations, in which the at-fault party agrees to pay a certain amount to a claimant in exchange for that person agreeing to give up the right to file a claim in court. To start negotiations, an injured party usually begins by sending what is known as a demand letter, where the victim provides details about the accident, his or her injuries, and the amount of compensation being sought. However, sending a letter is not all that is required. Instead, a claimant will need to create a demand package that includes a cover letter and supporting documentation. Read on to learn more about the types of information and documents you'll need when crafting your own slip and fall demand package.
A Cover Letter 
The first thing that should accompany a demand letter after a slip and fall accident is a cover letter. This letter should include detailed information about the accident, including:
A narrative of what happened on the date in question;
A list of the injuries the victim suffered as a result of the accident;
A list of the damages being sought, such as reimbursement for medical bills, lost wages, and property damage;
Any witness statements or comments from employees who were on-site and admitted fault;
A statement explaining how the property owner's negligence was responsible for causing the fall;
A list of the medical facilities and doctors that treated the injured party, as well as the expenses incurred at each;
The amount of lost wages incurred while the injured party recovered; and
The settlement demand amount.
Drafting a cover letter for a settlement demand is a nuanced endeavor. For help with your own, feel free to call our legal team today.
The Incident Report 
When a person slips and falls on a business owner's property, the manager or supervisor on duty will most likely create an incident report, describing what happened (the date, time, and location of the accident), as well the names of the injured party and any witnesses who saw the accident occur. These reports can provide crucial information about an accident, confirming claims made by an accident victim.
Medical Records 
It's also important, for those attempting to obtain a settlement from an at-fault property owner, to include pertinent medical records that show the nature and severity of the victim's injuries. These records can give insurers a better idea of the kinds of injuries suffered by the victim and help support a claim for a certain settlement amount. Doctor's notes, the results of diagnostic tests, and details about treatment and prognosis should also be included.
Proof of Bills and Expenses 
Being able to support a claim for compensation is critical when sending a demand letter, which will include a specific settlement amount. To help demonstrate how the number was reached, a slip and fall victim should be sure to include invoices, receipts, and bills related to his or her losses. This should include medical bills, as well as proof of lost wages in the form of paystubs.
Call Anderson & Anderson for Legal Help 
If you were injured in a slip and fall accident, you could be entitled to financial compensation. Call the dedicated Tampa slip and fall attorneys at Anderson & Anderson today to learn more about your legal options.
Source:
 forbes.com/advisor/legal/personal-injury/slip-and-fall-lawsuit/