Can I Sue for a Minor Injury in Florida?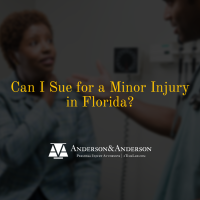 Many people mistakenly believe they can only file a personal injury claim major injury. Individuals such as this may think the only injuries worth filing claims are severe ones such as amputations. Thankfully this misconception is untrue, and your options aren't limited if you sustain a minor injury due to someone's negligence.
Minor injuries have the potential to impact your body, mental health, and even financial status. For this reason, it's important to understand what damages relating to your minor injury are obtainable.
Emotional Distress
Although your physical pain may seem minor, your traumatizing experience can cause you to suffer from emotional distress. Whether because of past trauma or something entirely new, your minor injury can negatively impact your psychological health.
When you're suffering from mental health issues, there's a good chance of losing your accustomed way of life. You may not enjoy the same foods, activities, or even interacting with your family as a result of your mental health issues.
If your minor injury causes you emotional distress, you can attempt to receive compensation for your mental anguish. However, this will not be an easy task. The defense will naturally try to ignore your emotional distress, and you will need proof of your emotional pain.
One of the ways you can defend your emotional distress claim is by visiting a therapist. Having your therapist voucher for your mental and emotional health can help validate your claim. The credibility of a therapist could play a huge role in your emotional distress claim.
Lost Wages
Even minor injuries can come with major consequences. When your minor injury prevents you from working, you can experience lost wages as a result. The precious hours you miss as a result of your minor injury can completely disrupt your financial status. Like everyone else, you have bills and other responsibilities.
Missing out on a single paycheck can ultimately set you back and disrupt your lifestyle. If you live paycheck to paycheck, you have little room for error when it comes to paying your bills and providing for your family. Again, even with a minor injury, you can experience a major blow to your established financial status.
Maybe you were saving up for a new car, house, or starting your business? Now, these carefully laid plans are in shambles because your minor injury disrupted your financial plans. You could even have to use money from your savings to live while you heal from your minor trauma.
Reach Out to an Injury Attorney in Florida
It's understandable to feel unsure about whether you can file an injury claim for your minor injury. Luckily, you can call an injury lawyer at Anderson & Anderson to determine if you have a valid injury claim. Our attorneys can listen to your situation and help you fight for your compensation.
You can call one of our attorneys at 813-251-0072. Filling out the online contact form at the bottom of this page is another easy way to reach us.