Back Pain After Tampa Car Accident: Can I Sue?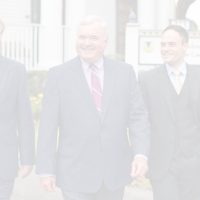 Suffering from serious back pain after a Tampa car accident can affect your life in a number of different ways. Many people underestimate how debilitating back pain can be, but at Anderson & Anderson, we have a unique insight into the devastation back pain can carry due to our work with Tampa car accident survivors.
If are struggling to cope with back pain after a car accident, you'll be pleased to know that there are legal options available to you. Below, we go into greater detail about who could be sued for the back pain you've been experiencing and when filing a personal injury lawsuit for back pain is possible.
The Impact of Back Pain after a Tampa Car Accident
Back pain can be far more serious than most people believe. But, in our work with Tampa car accident survivors, our firm knows just how debilitating back pain can be. Individuals suffering from back pain are often unable to care for themselves, their families, their households, and may even be unable to work due to the severity of the pain.
They will also accrue substantial medical bills in the hopes of treating their pain with prescription medications, seeing specialists, and taking other medical advice. Sadly, back pain is frequently permanent after a certain amount of time has passed after the accident, which leaves survivors with little opportunity to improve medically.
Fault in Your Tampa Car Accident
The first step in filing a lawsuit for back pain is establishing fault. It is easy to make the assumption that the other involved driver is to blame for the accident, but this isn't always the case.
Other drivers are often found liable for accidents that are caused by distracted driving, aggressive driving, fatigued driving, or due to operating a vehicle while under the influence of drugs or alcohol. But, in some cases, their vehicle has malfunctioned in some way, or another roadway hazard is the cause of the accident.
In cases such as these, your lawyer will need to build a case against auto parts manufacturers or distributors, or even the government agency responsible for maintaining the safety of the roads.
Only after conducting an in-depth investigation into the cause of the accident will you know whom should be compelled to compensate you for all you've been through.
Get Help from a Tampa Car Accident Lawyer
When your back pain has begun interfering with your life and you aren't sure where to turn, get in touch with an experienced Tampa car accident lawyer at Anderson & Anderson.
Our firm provides all accident survivors with a complimentary consultation to learn more about the individual details of their case. If you are interested in taking advantage of this opportunity, you can do so by giving our office a call at 813-251-0072 or submitting the convenient contact form provided below.