Can I Sue for a Dockless Scooter Accident in Tampa?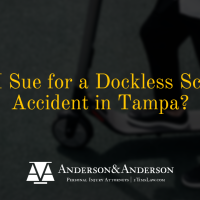 With the rising popularity of dockless scooters, the number of accidents involving them has also risen. Whether you were struck by someone riding a scooter or were riding a scooter when you were struck by a motor vehicle, you may be entitled to compensation from the at-fault party.
Continue reading to learn more about some of the most common liable parties in scooter accidents and how Florida comparative negligence laws could impact the outcome of your injury settlement.
Common At-Fault Parties in Scooter Crashes
There are many different parties that have been known to cause scooter accidents. More often than not, accidents occur when a vehicle strikes someone operating a scooter.
However, if there is a defect in the scooter itself, or if the roads are not safe for dockless scooters to drive on, then other parties, like the scooter manufacturer, the Florida Department of Highway Safety and Motor Vehicles (FLHSMV), or the Florida Department of Transportation could be to blame.
In order to figure out who is responsible for causing your Tampa scooter crash, your attorney will need to thoroughly investigate the circumstances of your case to determine culpability so your case can then move forward.
How Shared Fault Could Influence Your Accident Settlement
Shared fault, or comparative negligence, could have a serious impact on the amount that you'll be awarded in Tampa. When someone is partially to blame for the scooter accident they were involved in, they can still file a claim as long as someone else is primarily to blame. With that being said, any amount that you might be awarded will then reflect a shared fault deduction. Let's take a look at an example:
Joseph was on vacation in Tampa and rented a dockless scooter. He stopped at a restaurant and had a couple of drinks. When he was leaving the restaurant, he was struck by a driver who ran a red light. It was discovered that Joe's blood alcohol concentration levels were just above the legal limit, and he was found to be 20 percent at fault for causing the accident. The jury awarded him $2 million, but after his shared-fault deduction, Joe's civil claim was resolved at an award of $1.6 million.
As can be seen, when you are partially responsible for causing an accident, it can have a dramatic impact on the amount you'll be awarded. Your Tampa accident attorney will work diligently to ensure that only a fair portion of fault is placed on you, if necessary, so you can still obtain an injury settlement that meets your needs.
Contact a Tampa Scooter Accident Lawyer
If you've been hit by or while on a dockless scooter and you are interested in learning more about what legal options are available to you, a highly trained Tampa scooter accident lawyer at Anderson & Anderson could help. You can give our firm a call at 813-251-0072 or submit the quick contact form we have provided below when you are ready to schedule your free, no-obligation consultation.