5 Ways a Tampa Personal Injury Lawyer Can Help You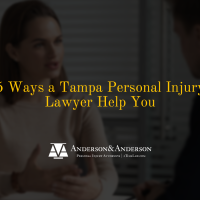 Hiring a personal injury lawyer after being involved in a serious accident is not a legal requirement if you want to file a lawsuit. But, having a highly experienced attorney on your side could make all the difference in the success of your case. Continue reading to learn more about the top 5 ways a Tampa personal injury lawyer could help you with your claim.
Establishing Fault
One of the most important components of any personal injury claim is the establishment of fault. In order for you to be successful in court, you must prove to the judge that another party is at fault for the accident you were involved in or the injuries you sustained.
A personal injury lawyer can be an incredible asset in this way, as you may not have any idea where to begin determining blame. Your lawyer should have experience in dealing with accidents and injuries of your nature, and therefore have an idea of who could be liable in your case.
Gathering Evidence
Although your lawyer may have an idea of who could be liable, the only way to know for sure is to investigate. You may not have access to the information needed to support your case or how to get it, but a qualified Tampa personal injury lawyer will.
During the course of the investigation, your lawyer will gather evidence, including witness statements, police reports, safety inspection reports, experts to testify, photographs and video footage, and more.
Dealing with the Insurance Company
Having to deal with the insurance company after an accident may sound like something you can handle on your own, but the truth is that insurers are hoping you don't have a lawyer representing you.
A lawyer can ensure that the insurance company doesn't take advantage of you in your time of need, which is likely because every settlement is a cost to the insurer.
Quantifying Your Damages
Not every loss that you may be able to recover in your case is monetary. Financial losses may be easy to calculate because they already have a financial value. But non-economic damages do not, and you may know how to figure out how much they are worth. A Tampa personal injury lawyer will.
Getting the Most Out of Your Claim
If you are going to take the time and effort to file a personal injury lawsuit, you probably want to be sure that you are maximizing the amount you can be awarded. You might know that you can recover lost wages and medical bills, but what about your non-economic damages?
If you work with a lawyer, you may be able to include losses you didn't even know you could recover such as reputational damage, inconvenience, and more.
Contact a Tampa Personal Injury Lawyer
Are you ready to get started on your injury lawsuit? If so, reach out to a qualified Tampa personal injury lawyer at Anderson & Anderson so we can further discuss the details of your case. Schedule your free consultation by filling out the convenient contact form at the bottom of this page or calling our office at 813-251-0072.